Each year, Cambridge Network holds In-Country Orientations (ICO) in major cities throughout the home countries of our students. This year, we held events in China, South Korea, and Vietnam; the two-day sessions took place in Beijing, Shanghai, Shenzhen, Seoul, and Ho Chi Minh City. A major goal of Cambridge's ICO is to set appropriate expectations about studying and living abroad in the United States. These expectations often play an essential role in student retention and ensuring long-term success after their arrival.
The In-Country Orientation covers a variety of topics directly addressing an international student's upcoming journey. Our orientation topics are continuously updated and adapted to the evolving needs of the parents and students. This year featured a handful of discussion points such as mental well-being and our Cambridge UP program, an online curriculum that integrates study and social-emotional skills development that is designed specifically to meet the needs of international students.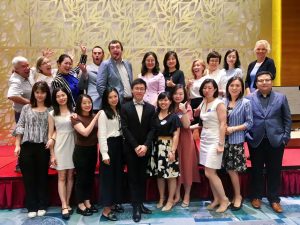 Cambridge Network invites experienced American high school teachers and Cambridge staff members to lead engaging and informative presentations and activities to help students prepare for their time abroad. Switching between very different two education systems can often be disorienting for students as the learning skills and strategies that once made them successful may no longer be emphasized in their new schools. Many new students often have no understanding of what defines success in the American classroom. The In-Country Orientation is the perfect opportunity to highlight these differences and help students succeed from day one.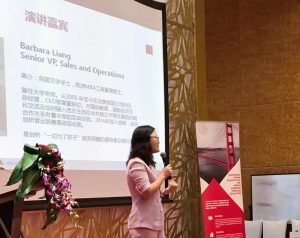 International students that attend the In-Country Orientation also participate in workshops that prepare them for the potential obstacles outside the classroom when they go abroad. The workshops cover a wide range of topics to help students acculturate and communicate effectively, including cultural adjustment, residential life, conflict resolution, and more.
Cambridge Network ensures that international families have a thorough understanding of the host recruitment, approval, and matching standards that we follow according to the Council for Standards on International Educational Travel (CSIET). A crucial topic for students to understand before arriving in the United States is the feeling of disorientation and homesickness when one spends time in an unfamiliar environment – culture shock. Additionally, our Student Development Managers cover this topic during their domestic orientations at our partner schools after they arrive, and host families are trained to recognize the symptoms of culture shock and to seek help for their students.
Additionally, several current host families and Cambridge Network students served as guest speakers and shared their international exchange experiences. The question and answer session provided attendees the opportunity to get answers to their concerns and the knowledge to navigate the everyday challenges encountered by international students.
Cambridge Network is an international education consulting company that provides admissions, academic, and homestay solutions to high schools throughout the United States and Canada. We work to raise the international profile of high schools, enhance diversity, and provide valuable support and supervision for all Cambridge students.
For students looking for international education opportunities, please submit a student inquiry form.