***Last updated May 28, 2020
Cambridge Network's US-based, student-focused teams are moving fast to ensure the safety of our nearly 3,500 international students throughout 30 states and 300+ schools. We hope this website can provide you with enough information and resources surrounding COVID-19. Please check this site regularly for daily updates.
Scroll down or click on the links below for additional information:
Cambridge Network Community Sends Support to China
We want to thank everyone for their valued support in these times of concern. We have received wonderful responses from our community since the news of the Coronavirus broke. It is incredible to see all our foreign international students, schools, and hosts coming together to bring comfort to those directly affected as well as their friends and families back home. We would like to share some of the videos from our international students who have mobilized their student bodies to create video messages, organize assemblies, and fundraise for those impacted by this crisis. To see more, follow the link!
Visa and Immigration Status Information for Foreign International Students
Foreign international students may stay in the United States on an expired F-1 visa as long as you maintain your student status. However, if you are returning home or traveling to a country where automatic revalidation does not apply, you must have a valid visa to return to the United States. (US Department of Homeland Security)
March 26: the Student and Exchange Visitor Program (SEVP) updated the coronavirus (COVID-19) FAQs on https://www.ice.gov/covid19 to provide the following guidance on electronic Form I-20 issuance:
Can designated school officials (DSOs) electronically send signed Forms I-20 to students instead of physically mailing the forms?

Yes, due to COVID-19, DSOs may electronically send Forms I-20 to student email addresses listed in SEVIS. In the case of a minor students, the email address may belong to their parent or legal guardian. Schools do not need to request permission from SEVP or report their plans to electronically send Forms I-20 as part of their COVID-19 procedural changes.
March 13: Follow up to the guidance issued by SEVP on March 9, 2020, COVID-19: Guidance for SEVP Stakeholders. The guidance identifies three common scenarios for SEVP-certified schools:
A school completely closes and does not have online courses or other alternate learning procedures
A school temporarily stops in-person classes but implements online or other alternate learning procedures and the nonimmigrant student remains in the United States;
A school temporarily stops in-person classes but implements online or other alternate learning procedures and the nonimmigrant student departs the United States.
March 12: Online Coursework Taken Abroad Under School COVID-19 Policies
The Student and Exchange Visitor Program (SEVP) provides NAFSA with the following statement:
"SEVP is committed to remaining flexible in allowing schools to make temporary procedural adaptations so nonimmigrant students can continue to make normal forward progress in their program of study. They can temporarily engage in distance-learning, either from within the U.S. or outside the country, in light of COVID-19. SEVP will provide updated guidance as the scope and length of this situation becomes more clear."
If a student chooses to fulfill the online coursework from outside the United States, they should consider that students may be unable to re-enter the United States to resume in-person classes due to travel restrictions.
March 9: SEVP sent Broadcast Message 2003-01, Coronavirus Disease 2019 (COVID-19) and Potential Procedural Adaptations for F and M nonimmigrant students, guiding how schools should respond to F and M international students and allowing flexibility in policies and procedures to ensure that nonimmigrant students are able to continue to make normal progress in a full course of study as required by federal regulations.
Response and Communication Timeline
Beyond our team's daily communication and outreach to international students, hosts, and schools in the US, we have also sent corporate communications to all parties and launched several campaigns aimed at creating an inclusive, loving environment for our global family.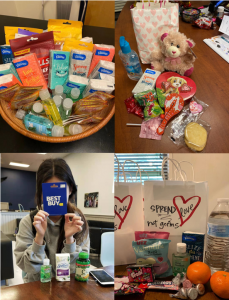 Spring Break Travel
Spring Break is quickly approaching for most schools and members of our community, including international students, faculty, and host families, who may be planning to travel domestically and internationally. Please be advised of the latest travel advisories and note that more restrictions may be put in place as the situation develops. We continue to encourage schools to establish action plans and reiterate their illness policies clearly to their communities (see NAIS guidance for schools). Cambridge Network will continue to work with our partner schools to establish procedures for international students seeking temporary housing during upcoming school closings.
Student Health Insurance Coverage
Cambridge's primary student insurance provider, Tokio Marine HCC, posted this blog on February 3 detailing the coverage and any restrictions applying to students.
For Green Card/Dual Citizenship Students: https://www.sevencorners.com/coronavirus.
Students must call doctors before going to the doctor and make sure the doctor is part of the United HealthCare network. If the student sees an out of network doctor, they will be responsible for the full cost and must file a claim for reimbursement. Accepting or denying claims is at the discretion of Tokio Marine HCC. For more information about how the coronavirus may affect your health insurance coverage, visit Tokio Marine HCC's FAQ on the coronavirus.
Misinformation is Spreading Fast
As COVID-19 spreads around the world, getting accurate information about the disease becomes ever more critical.
It's critical to always reference official State and Government websites for updates (listed below). Social media platforms appear to be getting better at stopping misinformation from going viral, at least in public posts. But inside private groups, many with thousands of members, false and sensationalized news is a commodity that still seems in high demand.
We strongly recommend checking sources, comparing articles, and not sharing without being confident in the news source.
Trusted Sources
Here is a brief list of trust sources for the latest information on the coronavirus outbreak:
State Level Department of Health and Hospital Resources
As of March 13, 2020, the U.S. federal government has declared a national emergency. The national emergency declaration, along with states initiating emergency procedures, will ease restrictions and allow more federal aid and funds to states and municipalities to fight the coronavirus.
*** Please check if your health care provider has these hospitals and/or physicians within their network.
Arizona Department of Health Services
California Department of Public Health
757 Westwood Plaza, Los Angeles, CA 90095
University of California San Francisco Medical Center
2356 Sutter St, San Francisco, CA 94115
4203 Belfort Rd, Jacksonville, FL 32216
1600 SW Archer Rd, Gainesville, FL 32608
Massachusetts Department of Public Health
Massachusetts General Hospital
55 Fruit Street, Boston MA 02114
123 Summer St, Worcester, MA 01608
New Hampshire Department of Health and Human Services
New Jersey Department of Health
1 Cooper Plaza, Camden, NJ 08103
100 Madison Ave, Morristown, NJ 07960
530 1st Avenue, New York, NY 10016
3181 SW Sam Jackson Park Rd Portland, Oregon 97239
Kaiser Permanente Sunnyside Medical Center
10180 SE Sunnyside Rd., Clackamas, OR 97015
Pennsylvania Department of Health
3400 Spruce Street, Philadelphia, PA 19104
Thomas Jefferson University Hospital
111 S 11th St, Philadelphia, PA 19107
Rhode Island Department of Health
164 Summit Ave, Providence, RI 02906
593 Eddy Street, Providence, RI 02903
Texas Department of State Health Services
6565 Fannin Street, Houston, TX 77030
Baylor University Medical Center
3500 Gaston Ave, Dallas, TX 75246
Washington State Department of Health
University of Washington Medical Center
1959 NE Pacific St, Seattle, WA
12040 NE 128th St, Kirkland, WA 98034
Washington D.C. Coronavirus Page
1500 Forest Glen Rd. Silver Spring, MD 20910
600 N Wolfe St, Baltimore, MD 21287
Summer Break Solutions
While it is certainly our hope that when summer break starts travel restrictions will be lifted and our students will be able to return to their native countries. But we do recognize that the situation continues to develop and change each day, we will continue to monitor the situation and update our community accordingly based on information we received from US government officials. We are in the process of developing alternative solutions if necessary. We currently have two service options, but strongly recommend students begin searching for summer programs, courses, and opportunities.