Full interview and audio in Chinese
Initially, Emily Chen was enrolled as an 11th grader in a high school in California as an international student. But due to the COVID-19 pandemic, she returned to her home country of China. Her school offered online classes while she was abroad but quickly found out the time difference to be a significant barrier in keeping up with her studies. Following coursework and lessons became quite tricky. She would usually begin her classes around midnight and stay up through dawn as the time difference is 15 hours. Her school schedule started to take a toll not only on her learning but also impacted her physical and mental health.
In need of a change, Emily then decided to join St. Mary's Online Academy (SMOA), created by St. Mary's School of Medford, OR, a renowned U.S. private preparatory school, provides a synchronous on-site and online education platform for international students taught in their native time zone. Through SMOA, Emily's situation was completely reversed. She was able to continue her studies at one of the best private U.S. high schools without having to sacrifice her ability to maintain a reasonable schedule. Emily's learning efficiency and academic performance quickly improved during her time at SMOA. SMOA offers a wide range of Advanced Placement courses in addition to many standard core classes offered in most top private high schools (full course catalog). With St. Mary's many international campuses located in China, students also can join on-site events and participate in extracurricular opportunities. Emily founded the SMOA Student Union and became its first chairperson. We caught up with Emily, and she shared her experiences in SMOA so far.
After Emily enrolled in SMOA, she chose five AP courses, including AP Calculus, AP Chemistry, AP English, AP American History, and AP Fine Arts. Emily shared:
"I like AP American History very much because studying American History has given me a better understanding of American culture and traditions, and AP American History teachers are particularly passionate in class, which makes me have a stronger interest in American history."
For online learning, it is relatively challenging to teach courses such as science and engineering that utilize experiments to communicate lessons. However, the teachers of SMOA have rich experience in online teaching and U.S. education, using online resources and existing materials on hand by students to conduct online learning and offline experiments. Emily tells us how they implemented chemical experiments:
"If we are learning offline and we will need to do experiments, we may go to a group discussion, then do the experiment offline, and write an experiment report. The teacher will instruct us, and we watch a video to learn how to conduct experiments. The equipment and chemical materials used in the experiment are generally replaced by some tools and materials at home so that we can carry out experiments ourselves. After the experiment, we will upload the recording of the experiment. Teachers and students can exchange notes on what we did."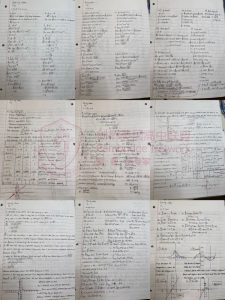 For SMOA students, another important role in their learning coach. As a bilingual teacher, the learning coach plays a vital role as a bridge in the overall program, helping students communicate smoothly with foreign teachers and deal with various problems in learning:
"Our learning coach, Mia, is very approachable and has a rich experience in tutoring and teaching. In the usual chat, we learned a lot from her. When school just started, our entire online course process was not very familiar to me yet. Ms. Mia has been helping me with the process and learning the skills I need. At the same time, she will explain in detail the assignment system and how to set up the student union. At the same time, Ms. Mia also compiled some materials for me to assist me. And to help me study, with her help, I am more familiar with SMOA's scoring mechanism, teacher teaching platform, and my learning process has gotten better. "
This year, Emily also assisted the student union members in establishing some new clubs for SMOA, such as the music club. Students from around the world joined in, enriching everyone's after-school life and promoting the coordination of SMOA's various campuses. Up to now, many students have had their works have been displayed through SMOA's online e-magazine. In addition, they also performed at SMOA's online events, which were recorded separately and helped to synthesize the videos with various online music platforms.
It isn't easy to manage student unions and various clubs online. Still, as a student union leader, Emily has shined in her communication and leadership skills by coordinating and successfully organizing so many student activities. These two abilities will play a critical role in her future college applications. Emily mentioned this about her experience:
"This is a challenge as well as an opportunity, and it helped me improve my leadership. The process of overcoming difficulties was originally a process of growth."
As Emily is looking forward to her senior year, she has set the goal of being accepted to a top 30 university in the U.S., where she intends to study international relations. For her, the most rewarding part of being in SMOA has been interacting with her classmates who come from all corners of the world, and students living in the same city often gather offline to build friendships.
For international students interested in St. Mary's Online Academy, please follow this link