Iris Li is may be one of Cambridge Network's newest international students, but three months into her first year at Ramona Convent Secondary School, she's already thriving. Currently a junior at Ramona, located in Alhambra, CA just seven miles from Los Angeles, Iris has quickly adapted to her international experience and learned how to balance her academic life with her passion for dance. Iris started traditional Chinese dance when she was 4-years-old and has developed a deep love for hip-hop dance over the past two years.
L.A. is the cultural and entertainment center of the world, so it makes sense that it would also be home to some of the best dance studios in the world as well. For Iris, this seemed like a perfect match, one she has taken full advantage of. In September, she took classes at The Kinjaz Dance Studio in L.A. hosted by the world-renowned hip-hop dance troop of the same name. The Kinjaz have been featured on popular television shows like MTV's Americas Best Dance Crew Season 8 and recognized by the World of Dance Awards and World Choreography Awards.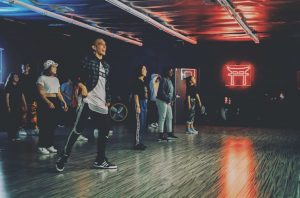 Later that month, she saw a post about auditions for The Lab of Creative Arts Studio, better known as The Lab, a dance crew whose accomplishments include winning NBC's World of Dance Season 2, being featured on The Ellen Show and the Justin Bieber Purpose Tour, as well as working with artists like Nicki Minaj and Rihanna.  After hearing about the audition, Iris consulted with her Cambridge Network host mother, Jessica, who encouraged her to try out. At her audition, Iris, along with over 100 other candidates, took part in a three-hour process where she was asked to learn brand new sets of moves and pieces of choreography. Candidates were then divided into smaller groups to perform the choreography in front of judges, including the choreographers and members of the dance crew.
Iris recalls the audition process with the same outgoing and friendly nature described by those who know her best: "I was nervous at first, but I was excited when I found out I got accepted into the team." She also mentioned the importance of her host mother's encouragements to her success:
"Jessica encouraged me to try out for The Lab when I first heard about the audition. She went with me to the orientation so that we could get more information about dance practices and rehearsals. She has been supportive of my decision to become involved with The Lab."
Throughout the week, Iris practices dance for at least 10 hours and rehearsals happen three to four times, but she hasn't had much difficulty juggling her busy schedule. She attributes this to keeping her priorities straight by finishing her schoolwork in the library before going to dance each day.
But Iris began to worry once she saw that her dance schedule might conflict with her host mother's work. She told her Cambridge Network Student Development Manager (SDM), April, and April offered to drive her to some of her practices each week. This opportunity has allowed them to build a strong relationship, with Iris often discussing her passion for dance. April also works closely with Iris to mentor her academic journey and personal growth while Iris has promised to help April improve her dance skills. Iris is looking forward to making new friends through her new dance group and excited for her first performance with The Lab in December.
Want your school to be featured on our website or social media? Send student and school highlights to your Student Development Manager or Program Manager and we will share on our platforms!
Check out our blog section to learn about industry trends, international program best practices, ways to engage students, and more.
For more information on Cambridge Network and our services, feel free to submit an inquiry form.