Alan Yang's (pictured second from the left) first year as a Cambridge Network and York School international student has been an eventful one, to say the least. In the span of a few months, Alan started his study abroad journey and joined his school's track and robotics team. Then last October, Alan got the opportunity to travel back home to China and rejoin his former classmates to compete for a chance to qualify for the International Space Settlement Design Competition (I-SSDC). The I-SSDC is one of most coveted high school science and engineering competitions in the world and has been sponsored by NASA, the Boeing Company, and the National Space Society. The I-SSDC has four rounds of qualification – a national qualification selection, national competition, regional semifinals competition by continent, and the International Finals at the NASA Kennedy Space Center in Florida. At each level, students are tasked with designing and presenting a proposal for a viable space settlement to a fictional futuristic organization called the Foundation Society using plausible extensions of current technology. The plans are evaluated based on five major components:
Structure – Overall design of the interior and exterior spaces as well as the materials used
Operations – Logistics of maintaining the infrastructure and facilities of the colony
Human Factors – Residential, medical, and other public needs
Automations Design & Services – Robotic and automated contributions to the success of the settlement
Business Development – Justification for financial investments such as commercial opportunities, industrial manufacturing, and costs
Alan's team, the United Team EIC II, ended up winning first place in the Chinese national competition and got the honor to represent his home country at the Asian Regional Space Settlement Design Competition (ARSSDC) hosted in India. At the Asian Regionals, qualifying teams form companies with teams from previous rounds who receive invitations after having won their own "revival" competitions. These other teams support the qualifying team at this level of competition but may not advance to the next round. After arriving in India, Alan's company had three days of team building to incorporate these new members followed by a grueling 27-hour design marathon before presenting their proposal to a panel of judges with expertise in the aerospace industry. As the Chief Modeler, Alan was responsible for creating realistic 3-D models of the space settlement using computer-aided design and drafting. At this stage of the competition, Alan decided to go above and beyond by not only creating models of his team's designs but also animations to show how different structures and apparatuses would work in conjunction with one another. See below for one of Alan's 3-D animations.
Not only were Alan's efforts a massive hit with the judges, but he also received a standing ovation from the crowd of competitors who were also in attendance. Alan's company would go on to win the Asian Regionals and qualify for the final stage of the international competition in July. Alan's passion for science and his genuine curiosity is apparent to those that meet him but equally as impressive is his deep self-awareness. During the competition, Alan documented his company's design process and his trip to India for his schoolmates back at York. In his presentation to his friends, Alan features a comical bit in which he uses his team members as a case study on the psychological and emotional toll of staying up for 27 hours straight. Even in the middle of the competition, Alan was aware and mindful of experiencing the moment and musings of his surroundings.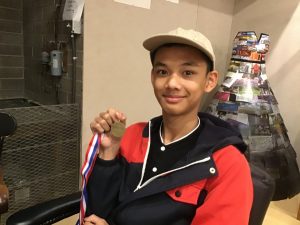 This awareness is also evident in his response to being asked about the difficulties of adjusting to American culture, Alan notes, "I don't really understand American behaviors sometimes, and Americans don't understand some of mine, we express ourselves differently." Alan goes on to mention his host family and how they have supported his international experience:
"They've taught me a lot about American culture, we go to movies and joke around. I'm always happy in this family, and I feel at home. They care about my daily life a lot and give me emotional support. I feel like I have an American dad and an American mom. I think I have one of the best host family."
Good luck to Alan and his team at this year's I-SSDC!
Want your school to be featured on our website? Send highlights and stories to your Student Development Manager or Program Manager and we will be sure to share them!
Click here to see last month's Student Spotlight!
For more information on Cambridge Network and our services, feel free to submit an inquiry form.