William (Xiaohan) Peng first arrived in the United States in 2017 for his freshman year of high school. When he got to campus at St. John's Prep in Danvers, Massachusetts, he was set on contributing to his new community and helping his fellow international students. Like many other international students starting their studying abroad journey, he encountered a new environment, culture, and language. But for William, this was beginning and a new challenge.
In the classroom, William is proactive and hardworking. He actively participates in discussions, works hard to absorb the content of his courses, completes homework on time, and prepares for his exams. But behind these good habits are William's many quiet efforts and resilience.
After his first semester in the United States, William would go to the school's writing center to improve his English pronunciation, vocabulary, and writing after class. He would put in extra work to gradually adapt to his American teachers' speaking speed and teaching style. When he encountered difficulties in his schoolwork, he would take the initiative to ask a teacher to help:
"My teachers are very patient, and they are happy to stay after school to answer my questions. They always provide timely and effective help when I need it."
He also said that his counselor, Mr. Dowling, was there and always communicated with him, "Every time I encounter trouble, I chose to talk to him because he can always help me find a solution."
In addition to speaking with his teachers, William also relied on his Cambridge Network Student Development Manager (SDM) Myles Cox. William would talk with his SDM to share his academic progress but also his personal feelings. They would often talk about setting long-term and short-term life goals as well as career and professional counseling.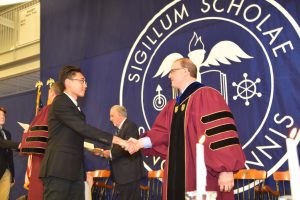 When William got the opportunity to run for class representative, he first went to ask his SDM for advice, and he got the suggestion of getting to know his community directly and asking what their needs are. William then went to speak with his classmates, listening to opinions, and campaigning by canvassing throughout the school. It was William's ability to listen and desire to help others that won him the seat as Treasurer of the Student Council, making him the first international student on St. John's Student Council ever.
In addition to being on the Student Council, William is also a member of the Track and Field Team, Swimming Team, German Club, Math Club as well as a member of the National Honor Society, who's selection process is based on four principle criteria: scholarship (academic achievement), leadership, service, and character. But above all else, William devotes himself to giving back. His warmth, friendliness, and excellent communication skills made him the Chairman of the Chinese Ambassador Club, where he has mentored the younger international students and helped facilitate many cross-cultural events. William organized activities like the school's Chinese New Year celebration, where his club taught students about traditional Chinese tea, Chinese calligraphy, and how to prepare Chinese food. During the event, he also shared stories about his life in China and his study abroad journey. For this and many other reasons, William won the St. John's student award for outstanding leadership.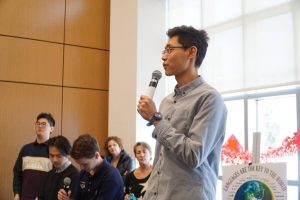 Despite his busy schedule, William always takes the time to volunteer by helping organize toy donation drives, fundraise for the less fortunate, and play piano in various school activities. In April, after returning to China due to the Coronavirus, he organized a mask drive for all the international students to donate to the United States. They collected over 2000 masks and shipped them to the US.
A leader is someone who sets a direction through an inspiring vision and motivates others to improve themselves. Through his hard work and diligence, William has become a true leader at St. John's and someone who seeks to better the lives of those around him. William continues to challenge himself and advance towards his goals each day. Currently, he is busy preparing for his college applications.
"As his SDM, it has been amazing to see him step out of his comfort zone and try new activities every year. I speak with his teachers regularly, who give William glowing praise for his positive attitude, friendly demeanor, and hard work. When I would meet with William, he would always be smiling and excited for whatever extracurricular activities he had scheduled for the afternoon. While many students focus on taking the most challenging classes and having the highest GPA, William has found a balance that will give him many opportunities in the future. Getting involved early as a student helped him strengthen his English, make friends, and discover his interests. Universities look for students that are well rounded, and William has done his best to be an involved and academically strong student. He is the embodiment of St. John's Prep and Cambridge student." – Myles Cox, Student Development Manager
—
Click here to see last month's Student Spotlight!
For students interested in Cambridge Network, please click the "Contact Us" button or follow this link.
For schools interested in Cambridge Network and our services, please submit an inquiry form