Last year, I had a new 8th grader, Jason, who is only 13 years old. Before his arrival at The Doane Stuart School, his host mom expressed her worry about his young age and whether he would be able to adjust to the new environment. However, within just two months, this young boy had already demonstrated his ability to adapt to his new school and home quite quickly.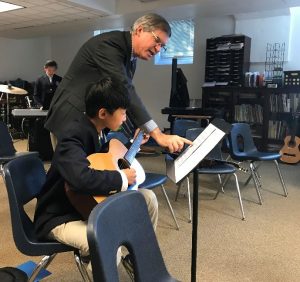 At school, Jason was doing well in almost all his classes. While he initially struggled with Social Studies, Mrs. Febrey, the ESL teacher at Doane Stuart, has provided him with a lot of support. Additionally, Doane Stuart's Pass/Fail policy for all new students in their first semester has been immensely helpful to students like Jason. This policy allows students to integrate themselves gradually into their new learning environments instead of being overburdened by the need to succeed immediately. Furthermore, this approach is especially significant to international students, who face additional challenges with acclimating themselves both inside and outside of the classroom as compared to their domestic peers. The extra support Jason has received has allowed him the flexibility and time to pursue his interests in music and soccer. He joined the Jazz Band and the Soccer team, which he is very excited about. Through these school activities, Jason has made many friends, including both international and American students.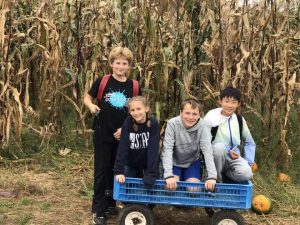 At home, Jason enjoys being a part of a big family, including his host parents and five host siblings. Jason likes to play video games with the eldest host brother, Gabriel, who is also 13 years old. Kristie, Jason's host mom, is a great cook, and Jason has loved every meal she has made for the family. As a Cambridge Student Development Manager (SDM), I have dedicated extra attention to this student in part due to his age. I communicate with Mrs. Febrey regularly about his academic performance and relay these reports to his natural father. I check-in on Jason often through WeChat. More recently, we went out for dinner at a Shanghai restaurant, and afterward, I brought him to an Asian supermarket to stock up on familiar comfort foods. When I can, I bring homemade Chinese food to my students to make them feel more at ease about their homesickness.
Through Jason, I have seen the great value offered by our international student program. The tremendous support provided by our host families and schools has washed away any of the initial worry we felt at the beginning of Jason's international student experience. The comprehensive care and considerations taken on behalf of the students shows everyone's commitment to ensuring their well-being and success. That's also why I was so thrilled when Doane Stuart accepted a new 7th-grade international student, Jack, this fall.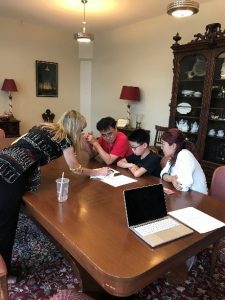 In late August, the school held its orientation for new students and their parents, where Mrs. Febrey settled any concerns Jack and his family may have had. She even provided moon cakes in time for the Mid-Autumn Festival and Chinese candies for the students. The staff at Doane help make the school feel like a family. The same goes for the ESL class, which is usually a small group with just a few students. The small class size provides students like Jack with more individual attention and better communication with the teacher, which has helped him in his English proficiency. Jack has followed in Jason's footsteps at Doane and joined the middle school soccer team.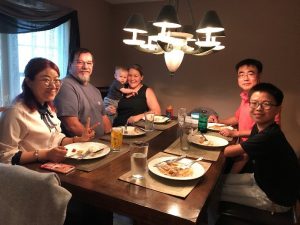 After the school orientation, Sara, the host mom, invited Jack and his parents to have dinner at her house, where I joined as well. Sara prepared a very delicious dinner for everyone. Jack enjoys living with his new host family and loves playing together with his little host brother, P.J., and the family dog, Pepper. Jack is involved in many family activities, including baking cookies with his host mom. He also went to a wedding with his host family. In fact, Sara was the one who encouraged Jack to join the soccer team and provides him the transportation to his extracurricular activities. She brought little P.J. to Jack's first soccer game to cheered him on. P.J. is quite a big fan of Jack and even tried to run onto the field during the game to celebrate with Jack.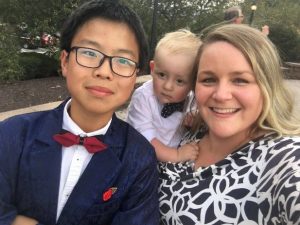 As an SDM, we regularly visit the school and communicate with teachers and students, but also, we will help students whenever we are needed. For example, Sara was not able to take time off to bring Jack to get his immunization shots, so I took Jack to the clinic in the morning and brought him to a Chinese restaurant for a wonderful lunch. Jack was delighted to eat one of his favorite dishes. Even though school started just a month ago, Jack has been adjusting well and is enjoying his American life with support from Cambridge, the school, and his host family. I am sure Jack and Jason will both have successful years here at Doane Stuart.
Xia Lu, Student Development Manager
Cambridge Network
—
Click here to see last month's Student Spotlight!
For students interested in Cambridge Network, please click the "Contact Us" button or follow this link.
For schools interested in Cambridge Network and our services, please submit an inquiry form.