A polyglot is defined as someone who can speak or write several different languages. While there is some disagreement about exactly how many languages one must know to be considered a polyglot, but the generally accepted standard is at least four languages. More importantly, a polyglot is someone who loves to study languages. By this definition, it would not be a stretch to consider Jiacheng Liu, a rising Cambridge Network senior from York School in Monterey, CA, a polyglot. As an aspiring linguist, his goal is to able to speak ten languages fluently before he turns 20 years old. So far, he speaks Mandarin, English, Spanish, Portuguese, French, and Latin. Jiacheng's love of linguistics is not merely about being learning as many languages as he can. He is determined to expand both the breadth and the depth of the list of languages he knows.
In just two short years, Jiacheng has achieved fluency in Spanish at a CEFR C1 level, the Common European Framework of Reference for Languages' second-highest level of language proficiency. He is also the first non-Hispanic president of his school's Spanish Honor Society. Currently, the group is organizing trips to Los Angeles for Spanish level certifying exams for members of the society. To further develop his mastery of languages, Jiacheng also started to study Latin. This has allowed him to better examine the evolution of the Spanish language from the standpoint of historical linguistics—his favorite subject. Jiacheng gives a lot of credit to his former Spanish teacher at York, who received his Ph.D. in Hispanic linguistics, for developing his interests in studying languages.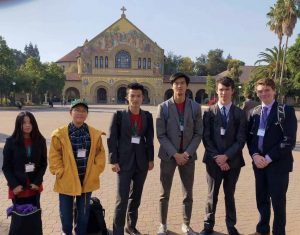 His teacher mentioned a research opportunity to research where he could transcribe some "arcane" manuscripts that have never been studied. More specifically, to work on classifying the first instance a word makes their first appearance in written Spanish language. The process involves examining fundamental sound-change rules that identify when a word transitions from Latin to Spanish and referencing dictionaries to verify its first documentation into the language. The project has allowed Jiacheng to combine a few of his favorite interests, "I don't do things just because it would look nice for my college application: as I grasp the language firmer, my interest blooms, especially when combined with my study of Latin, which allows me to examine the evolution of the Spanish language."Jiacheng submitted his work to two college-level symposia, but he was unsure about his eligibility since the registration did not even allow high schoolers to submit their work. To our surprise, he got into both.
Together with his teacher, Jiacheng presented their work on The Spread of Renaissance and Humanist Thought in the Iberian Peninsula in the early 15th Century at the 2019 Kentucky Forum of Languages, Literatures, and Cultures (KFLC) 2019 as well as the 40th Annual Medieval and Renaissance Forum at Keene State College, NH. The KFLC is one of the country's longest-running literacy, linguistics, and pedagogy conferences. Jiacheng is one of the first high school students ever to be invited to present at the event in which over 85% of the presenters hold Ph.D.s in their respective fields.
Jiacheng's study of languages extends to its more practical applications as well, such as public speaking and debate. He is the current president of the Model United Nations Club and participated in the 2018 Stanford University Model UN Conference. He joined students from Japan and Russia to present their research on nuclear nonproliferation and disarmament at the Annual Critical Issues Forum hosted at the Middlebury Institute of International Studies. He received an Award of Excellence for his work at the forum.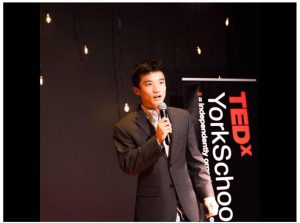 Also, York School has a tradition in which every sophomore gives a speech in front of the entire school. His speech about the time he applied for a visa to travel to Spain alone and how children can be as competent as adults received a standing ovation from the entire school. Afterward, he was recruited to be the emcee for the school's TEDx event. Jiacheng has quite a few interests outside of linguistics as well. He started the school's Student Tech Club which helps the school maintain its electronics and transition to newer devices, and he is on the Varsity Track Team. Even with such a long list of accolades, Jiacheng remains quite humble about his endeavors:
"Don't be deceived by my involvement in varsity track. I actually have an extremely weak cardiovascular function which limits my participation in 100m and 200m events only—the ones that I can essentially run through without even breathing."
Jiachang attributes much of his passion for language and linguistics to his international student experience, "I would have never discovered my potential of studying languages if it weren't for the fact that Cambridge Network introduced me to York School, where I meet these amazing faculties who have helped me shaping my passion."
As his final year at York begins, Jiacheng gives this piece of advice for other students looking to study abroad:
"If you do decide to study abroad, please strive, in all that you can, to challenge yourself. Please don't just finish the homework at the school; find something that you actually love and give it all."
Click here to see last month's Student Spotlight!
For students interested in Cambridge Network, please click the "Contact Us" button or follow this link.
For schools interested in Cambridge Network and our services, please submit an inquiry form.