Ginnie Zhuang was a rising senior international student from Shanghai, China, studying at a private high school in Philadelphia, when the sudden COVID-19 outbreak made it impossible for her to return to the United States to attend classes after 2020 summer vacation. In looking for a suitable domestic online school, she was recommended St. Mary's Online Academy (SMOA) by a fellow classmate.
After doing some research, Ginnie learned that St. Mary's Online Academy was launched by St. Mary's Middle School, a century-old, top U.S. private preparatory school located in Medford, Oregon. As a global online learning platform endorsed by such a prestigious school, Ginnie and her family felt SMOA was a reliable option. She took the time to reflect on this past school year at SMOA and the many pleasant surprises and goals she accomplished.
Why choose St. Mary's Online Academy?
Wide Range of Courses to Choose From
SMOA offers a rich selection of classes, including AP courses, a flexible and friendly course selection process, and unparalleled convenience for students studying from Asia. Students have access to an authentic American curriculum, grading system, American teachers and staff, standard American high school courses, language support courses, core cultural courses, STEM courses, and more, which are offered online and taught by experienced American teachers in China Standard Time.
With over 20 AP courses offered for students to choose freely, Ginnie is very excited.
"SMOA cares more about students' ideas and needs. I chose AP Chemistry, AP Psychology, and AP Human Geography, as well as some regular courses related to higher education, finance, and creative writing; in addition, St. Mary's Online Academy provides AP exam resources that cover a lot. Even self-study AP courses can be registered here to take the exam, which was unimaginable in my previous American high school."
Project-Based Learning and Exploration
Continuing her American education was Ginnie's most significant reason for transferring from her previous school to St. Mary's Online Academy. SMOA's teachers are open and flexible, and there are many project-based learning experiences, which significantly enhances the interest in the courses and the desire to explore independently. Take Ginnie's AP Psychology class as an example. Ginnie's teacher asked the students to create WeChat accounts or Facebook accounts as profiles for psychologists and their theories on human behavior. These activities serve to simulate how students would re-interpret the content they learned to share their viewpoints and ideas through these social accounts.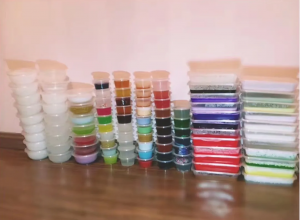 Learning Coaches and Student Support
It is inevitable for students to feel a little nervous and apprehensive when taking online courses for the first time, but what makes St. Mary's Online Academy unique is that each student is equipped with a one-to-one professional bilingual learning coach. These coaches assist students with enrolling and familiarizing themselves with the class platform, communicating with teachers, and even the college application process.
When Ginnie needed help with reviewing her homework and exams, Ginnie asked her learning coach. The learning coach communicated and coordinated with her teacher to set up a time to answer questions and improve her learning efficiency.
Recently, Ginnie received her first college acceptance, an offer to the University of Illinois at Urbana-Champaign, ranked 47 among U.S. National Universities by U.S. News. SMOA has given Ginnie a second chance at completing her U.S. education; she remains optimistic because of her experiences as she awaits more acceptance letters to her top choices for college.
If you're interested in learning more about St. Mary's Online Academy, click here.
—
Click here to see last month's Student Spotlight!
For students interested in Cambridge Network, please click the "Contact Us" button or follow this link.
For schools interested in Cambridge Network and our services, please submit an inquiry form