We caught up with Jenny (Giang) Phung, a Cambridge Network international student and senior at Montini Catholic High School (IL), for an interview as she prepares for college and reflects on her final year of their high school. Jenny, who's originally from Vietnam, recently completed her college application process and has been accepted into five schools so far, including School of the Art Institute of Chicago (SAIC), The Savannah College of Art and Design (SCAD), Columbia College Chicago, Kent State University, and Massachusetts College of Art and Design (MassArt).
Tell us a little about yourself.
Jenny: Hello, everyone calls me Jenny, but my real name is Tuyet Giang, which means "snow river" in English. My friends said my name sounds fairly lonely, which terrified me back then because your name can represent your future in our culture. However, after studying abroad in the United States, I finally realized snow is one of the most gorgeous things I've ever seen.
I'm Vietnamese and grew up in Ho Chi Minh City. I came to America in 2019 as a junior. My passion for art has always been a big motivation for me to pursue the dream of becoming a fashion designer. It was also the reason why I chose to study abroad because I wanted to seek more opportunities, and at the same time, came out of my comfort zone to challenge myself.
What has it been like studying abroad as an international student?
Jenny: After three months, I had to transfer to E-learning because of the pandemic. It was unfortunate that I didn't have a chance to experience American culture and high school life fully. However, I believe I had the most unique opportunity. I'm not a very sporty person, I do like swimming a lot, but it's hard to find an open swimming pool during this time. Besides school, I created artworks on my own (painting, sewing, hand-made products).
I think the most efficient way to balance my activities outside of school and my school life is to have a logical schedule for studying. I always make sure that I finish all my assignments before working on my personal art projects. For example, after school, I will spend time working on my math homework since math is not my strongest subject, and then do other homework afterward which are less difficult. In this way, I hardly ever have to stay up late for homework and can submit those on time.
What are your personal and academic goals?
Jenny: Since I'm an introverted person, my personal goal has always been to overcome my insecurities about not being good enough. I want to make more friends and create many more connections with people without worrying about being judged on my differences.
I want to pursue fashion as my major in college. It's a very competitive field between young talented people in the world. However, I will never give up on my dream. With passion and hard work, I know I will become a successful woman so that my family can be proud of me.
How has your study abroad experience through Cambridge Network allowed you to further your goals?
Jenny: Growing up in Vietnam, art has never been considered a serious subject. I had never thought that I could possibly pursue my dream of becoming a fashion designer or even work in the fashion field. My parents are both business people; they expected me to become a businesswoman to be stable financially and take care of myself. However, I am an artist! My desire for art has encouraged me to study abroad to come closer to my dream. I'm glad that I chose Cambridge Network. They have always been there for me since day one. I feel reassured that there is a professional organization behind me that supports me with paperwork and guides me on my academic path.
I have to say thank you to Mr. Glaspie. He has been really involved and supported me in everything (my study, my host family, my mental health). Last year was a challenging year for everyone. However, Mr.Glaspie and Cambridge Network were not only always there for me but all the other international students who chose to study in the US.
What has been your favorite thing about being an international student?
Jenny: I believe the best part of my experience so far is getting to know my host family and have a chance to live with them. I was super nervous about my decision; I was unsure if I made the right choice because they are the people I will live with until I graduate from high school. However, I quickly fell in love with the Lipinski family. They treated me like family!
The transition to life in America was full of challenges. There was a culture shock, and the language barrier made things more difficult. However, I'm grateful that I have everyone's support. It helped me overcome my problems and complete myself.
My host mom is a photographer. I expressed an interest in photography, so she created assignments to teach me about the camera, composition, and depth of the field. Next, I wanted to learn to sew.  My host mom found me a sewing machine and taught me to sew. With patience and perseverance, she walked me through simple patterns. Soon I could do this on my own. Quarantine became a gift of time, learning, and experience.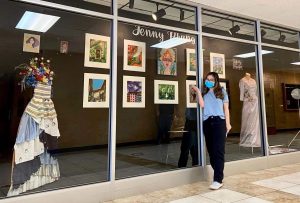 How advice would you give other younger students interested in studying abroad?
Jenny: The first piece of advice I would give to young students interested in studying abroad is to make sure that you do some serious research on the country you're planning to go to. It will help you feel less nervous, avoid culture shock and help you to make more friends at school. I was confident about my English ability until my first week of school, I couldn't keep up with what my classmates were saying, and it took me a while to figure out how I should react to those situations.
Secondly, be optimistic, don't be afraid to ask for help or communicate with others. Staying positive is the key to dealing with homesickness. Asking for help and communication would help other people understand you more and create more opportunities for you in the future.
Jenny handled all the changes with such grace and patience.  She never let it deter her. She continued to work hard and let the experience inspire her art. Jenny and I worked closely together to make our virtual check-ins meaningful, and she joined many of our virtual events. Jenny quickly became a leader in the international community.  It has been a joy watching her growth during these difficult times. Jenny is one of the most amazing, focused, and talented artists I have met in recent years. I look forward to being at her first fashion show!

– Stephen Glaspie, Regional Manager of Operations
—
Click here to see last month's Student Spotlight!
For students interested in Cambridge Network, please click the "Contact Us" button or follow this link.
For schools interested in Cambridge Network and our services, please submit an inquiry form