The development between the ages of 14 and 18 for students is drastic. We are hopeful that students can become young adults who are confident, mature, and daring to meet new challenges during this period.
For this month's Student Spotlight, we caught up with Kevin Xu '21, who spent four years at Archbishop Murphy High School (AMHS), located just outside Seattle, WA. Kevin's study abroad experience was defined by overcoming the difficulties related to the COVID-19 pandemic and the growth he encountered in the process. Kevin joins us to reflect on his time at AMHS and his new journey at the University of California, Irvine, in the fall.
International students experience unfamiliarity in various ways and magnitudes, from eating to dressing to communicating with others. When he first came to the United States, rugby fields, tennis courts, and other sports venues that Kevin hadn't been seen in China intrigued him. Kevin looked forward to the beginning of life at his new school with this same attitude. He wanted to start his journey with a fresh perspective. But things didn't go entirely as planned; he would soon meet his first challenge.
"The way of class in the U.S. is very different from that in China. Different classes are in different classrooms. The experience of finding a classroom from the list was very painful when I first started class. With the help of the school's international coordinator, then I gradually began to adapt to school life."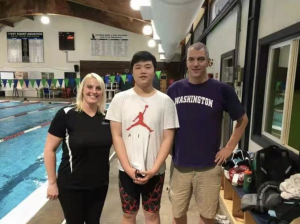 Kevin wasn't discouraged from this first test; instead, it brought out his fighting spirit. In American high schools, sports are often the most popular extracurricular activities and excellent opportunities to make friends. Kevin participated in many sports, and the most memorable one was the swim team.
The swimming team usually trains at 6 o'clock in the morning, which means that Kevin has to get up at 5 am every day during the winter season. This was a significant mental and physical challenge for Kevin. After training, he still has to go to class for the day. Adversity did not bring down the then 14-year-old international student. He faced these difficulties head-on and took his schoolwork just as seriously.
"I like to challenge myself and choose the hardest course I can in my grade as much as possible. At the same time, I chose the school's advanced humanities and French course in combination with my own interests. This study lasts for three years. Things keep me extremely busy, but they also make me grow very fast."
The hardships of the swim team allowed Kevin to develop a habit of self-discipline, and his busy studies trained his time management skills. But Kevin knew that to apply to better universities in the future, he also needed to combine community service to make his later essays stand out in his college applications.
Kevin has served in a food bank near the school for two years and was responsible for distributing and organizing food.
"This kind of community service is not something you can experience in China. It is a brand-new experience for me. I have gained happiness from helping others, and I also understand the importance of cherishing food."
Just when Kevin had finally achieved self-discipline and adapted to his new environment. The sudden surge of the COVID-19 cases would disrupt Kevin's new life in America, and he was forced to make a tough decision. Because it was tough to buy air tickets when the pandemic broke and a significant risk of infection if he had returned to his home country, Kevin chose to stay in the United States and complete his studies with peace of mind.
"I clearly remember that the first case in the United States appeared at the end of February 2020. The epidemic began to break out in the United States a month later, and the situation became more and more dangerous. It was decided to suspend classes in early April for the safety of students. With a complete online course system, the school has developed an emergency response method, established an online course teaching system, trained an online course teacher and a homework modification system, so that students can have a good online course learning experience."
Kevin is delighted with the school's emergency plan. He also talked about the most critical issue for seniors during the pandemic: applying to colleges. At that time, Kevin was in the 12th grade. Due to COVID-19, the communication between teachers and students would be a big concern.
"The teachers at the school know that the pandemic will have a great impact on college applications, so they send a lot of emails to us every day, asking us where we are in the university application and what help is needed. The teachers are serious and responsible. And we're aware of the impact COVID-19 would have on university applications."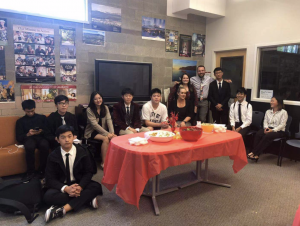 In addition to his teachers' dedication, Kevin also praised the college search tool provided by the school, which searches colleges by various conditions such as major, geographic location, school size, etc. It is beneficial for students who have no clue when choosing a dream school.
Kevin also specifically mentioned that during the entire pandemic. Even though learning took place entirely at home, the school's international student office staff and his Student Development Manager from Cambridge would visit Kevin with small surprises and goodies. While they could only say hello from a distance with a mask and check on him, this is enough to warm Kevin's heart.
Kevin emphasized that his most significant gain in the four years of high school is that he can control the balance of schoolwork and extracurricular activities. In the face of difficulties in life, he can solve problems on his own. This also makes him believe that he can rely on himself and solve problems when encountered in the future.
—
Click here to see last month's Student Spotlight!
For students interested in Cambridge Network, please click the "Contact Us" button or follow this link.
For schools interested in Cambridge Network and our services, please submit an inquiry form