Many prospective high school students are curious about what life is like for international students studying in the United States. So, we invited one of our Cambridge Network international students, Hannah Xu '23 from York School in Monterey, CA, to answer some common questions about living with a host family and the study abroad experience.
While most international students encounter an initial period of adjustment, we've found that the vast majority of the thousands of international students we help place in new schools and homes adapt very quickly every year. These early obstacles can be overcome with the right support to make them feel a part of their new communities. Host families often serve as a bridge of support for helping international students adjust to these new cultural and language challenges. Hannah, who came to the U.S. two years ago, shares some of the initial experiences she had with getting outside of the comfort zone:
"Actually, when I was studying English in China, I had never communicated with foreigners. I just learned English from textbooks. I thought that my English was pretty good. After I arrived, I found that I could hardly communicate because of the speed of the speech. But my host family has helped me a lot, so I have made great progress."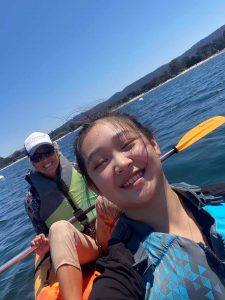 When asked about her host parents specifically, Hannah had this to say:
"I think this is a kind of love that extends across borders. My host mom and dad are people I have never met before, and we have not had any communication between us, but they are willing to treat me sincerely. I am also very grateful. I feel at home."
Hannah believes that coming to the U.S. in the 8th grade was a very wise choice because she had more time to adjust, along with the help of her fellow international students:
"In fact, my seniors are also very helpful to me because they knew and had gone through the same experiences I had. They will unreservedly help me to avoid various misunderstandings and make me feel better about what I was going through."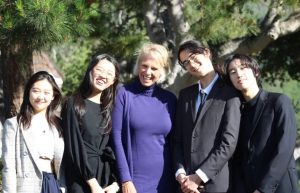 Due to COVID-19, this year, every student has had to adjust to taking classes remotely and online. This is especially relevant to international students who heavily rely on effective and accessible communication with teachers and other students. For Hannah, this has also been a dramatic change:
"I think there is a huge difference between online and in-person classes. After all, there isn't a real classroom anymore, and we all are not very used to it. Mainly, I think communication was the biggest problem. But our teachers have received specialized training and are adjusting. The status quo has gradually changed. We have a new updated system for schoolwork. There is a special class schedule, and you can type on any homework items. It's very convenient. The school is being conscientious. I think we are being more efficient with our time, and every school has had to find new ways to help their students to improve their learning."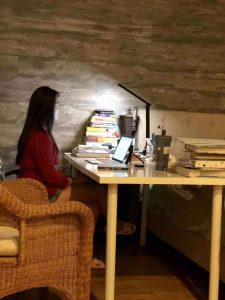 Hannah also recently formed a study group for her history class and gotten the chance to interact with new classmates:
"During the pandemic, I have met many classmates who I had never spoken to before and made many new friends. It was really an unexpected gain. When studying online, it is more convenient in a lot of ways, and you save time and space. And you can communicate with more students more deeply."
In her spare time, Hannah is an avid member of the school's Robotics Club and the President of the Knitting Club. Last year, the teacher supervising the Knitting Club retired, and Hannah began to take on more responsibly for her fellow members. She started an initiative to donate the hats and other items knit by the club to location hospitals for their newborn babies. Hannah even enlisted the help of friends and family in China to help with her cause.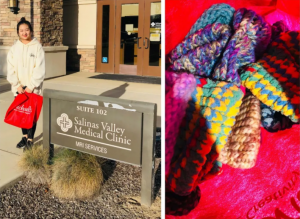 Like many international students and host families who have become connected through shared memories and cultural exchange, Hannah has been deeply moved by her experiences with her hosts. Our international student programs aim to improve the sharing of diverse perspectives and enhance the accessibility to study abroad.
—
Click here to see last month's Student Spotlight!
For students interested in Cambridge Network, please click the "Contact Us" button or follow this link.
For schools interested in Cambridge Network and our services, please submit an inquiry form