This month's Student Spotlight recognizes two outstanding Cambridge Network students who both received their early acceptances to their top choice of colleges.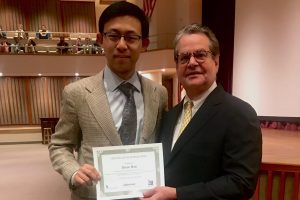 Landon School – Bruce Han '19
Bruce Han received his early acceptance to the University of Chicago and will follow in the footsteps of his host brother who also goes to the same school. Bruce is known to be quite the musician in his community; he knows how to play the piano as well as the saxophone. Bruce performed this beautiful piece by Chinese composer Guang Reng called "Silver Cloud Chasing the Moon" as a part of the music supplement for his college application. Bruce chose this piece to honor his Chinese heritage and celebrate his father's 60th birthday.
But more impressive than Bruce's musical skill, is how he has used his passion for music to give back to others. Bruce started a fundraiser as a part of the youth ambassadors for the Arts4TheCure program, the official fine arts and performing arts fundraising platform of National Foundation for Cancer Research (NFCR). The NFCR provides funding to research cancer detection, treatments, and cures.
Bruce started a jazz band, the Dodos Combo, and performs at various events around Washington D.C. with the goal to raise awareness and funds for cancer research. Bruce says he was inspired by the personal experience of losing his grandfather to cancer.
Recently, Bruce received his certificate of appreciation for his service work from NFCR CEO and Landon alumnus Franklin Salisbury '74. Bruce was also honored as the NFCR's Youth Ambassador of the Year in 2017. To read more about this story, click here.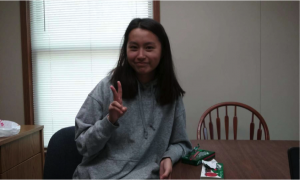 Lake Ridge Academy – Jodie Deng '19
Jodie got her early acceptance to Johns Hopkins University, where she plans on studying medicine and hopefully one day continuing her studies at the John Hopkins School of Medicine.
Her Lake Ridge Academy teachers and Cambridge Network staff describe Jodie as a career-oriented thinker, extremely hard-worker, and mentor to fellow international students. When Jodie is not busy studying for her many rigorous classes, she can be found encouraging other students and sharing insights with classmates.
A global citizen is someone who identifies as being a part of a world community and whose civic responsibilities contribute to making that community a better place. Jodie embodies this philosophy of global citizenship in her local community and with the world at large. She is the president of the Humanitarian Aid Society at Lake Ridge, which supports international education and disaster relief. Jodie oversees this student organization, which organizes events and fundraisers to benefit crisis around the world; this year they partnered with UNICEF. She is also the Secretary of the School's Student Council.
Earlier this week, it was announced that Jodie would be Lake Ridge Academy's 2019 Valedictorian. She is tremendously excited to represent her school and has already begun working on her graduation speech, which will be heard by her entire graduating class.
Want your school to be featured on our website or social media? Send student and school highlights to your Student Development Manager or Program Manager and we will share on our platforms! Click here to see last month's Student Spotlight! For more information on Cambridge Network and our services, feel free to submit an inquiry form.