On the outside, Jane Wang seems like any other sophomore at St. Rose High School in Belmar, New Jersey.  She enjoys hanging out with her friends, and her favorite food is hot pot – a Chinese cooking method where thinly sliced meat and vegetables are placed in a simmering pot of soup stock. But don't let her unassuming stature fool you, Jane is a world-class athlete and one of the top performers of her sport – windsurfing. For those who are unfamiliar, windsurfing is a water sport that combines aspects of both surfing and sailing. Sailors use a longboard usually around 2 to 2.5 meters in length powered by wind on a sail ranging up to 12 meters tall to navigate through the water.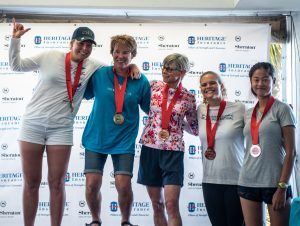 In late October, Jane represented her home country of China in the 2018 Kona World Windsurfing Championships on the Gulf Coast in Clearwater, Florida. At age 15, she was one of the youngest participants in the competition and the only person to represent her country. Throughout the five days, Jane competed against more than 100 other participants from 15 nations. While competitors are split into five divisions by weight in addition to a female and under-15 (cadet) division, the Kona competition pits all performers across divisions against one another. This is due to the specially designed sail sizes that are carefully tuned to match each division as well as regulations that eliminate weight advantages of any particular group. All competitors had multiple races a day as they sailed through a predefined course while considering daily changes in wind and other weather conditions. Jane would go on to place top five in among all women and top 50 overall as one of only two women under the age of 18 to accomplish this feat.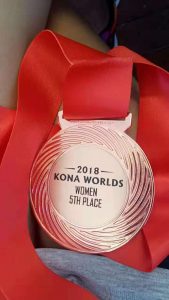 Jane remained unfazed by the gravity of the big stage as she took the time to fully enjoy her experience by making new international friends and meeting the CEO of the Kona Company. Jane reflected, "this was my first time at the world championships, I was a little nervous, but I was more excited." Jane's maturity shines not just when she's under pressure. She focuses her training and practicing schedule to only the summer months and fully commits to her academics during the school year. Jane credits her Cambridge Network host parents Rose-Marie and Derrick for their support of her passions. Her hosts helped Jane and her family research and coordinate sailing clubs and summer home rentals in Florida so that she could train in preparation of the world championships. Jane mentioned:
"They assisted me with my search and were really helpful to me. When my dad arrived in the U.S., they took care of him. They are concerned about my academics and makes sure I do well in school. I feel that I am already a part of the family."
Jane's hometown of Qingdao served as the host site for the 2008 Beijing Olympic Games for the windsurfing event. Jane's lofty goals don't stop at competing for the world championships; she hopes to represent her country at the Olympics soon. But more importantly, Jane is just as committed to her academic pursuits as her athletic ones. She hopes to one day be accepted into an Ivy League university and is thankful for her Cambridge representative Katelyn for all of her support, "if I have any problems in my personal life or school, Ms. Dato will help me to figure out what I should do. She sends reports to my parents, so they always know how I am doing."
Want your school to be featured on our website or social media? Send student and school highlights to your Student Development Manager or Program Manager and we will share on our platforms!
In case you missed last month's student spotlight, follow the link to read more. Check out our blog section to learn about industry trends, international program best practices, ways to engage students, and more.
For more information on Cambridge Network and our services, feel free to submit an inquiry form.