From afar, it seemed like Aron Qiu arrived at All Saints' Episcopal School in Fort Worth, Texas, as a first-year international student with everything planned out. He already knew when he would want to take his honors and advanced placement (AP) classes in his later semesters. He wanted to be a well-rounded student and excel in not only math, science, and humanities but also in his extracurriculars. And most importantly, Aron had a goal he was working towards; he was going to pursue his passion for architecture. As a junior, Aron is taking five AP courses this year while being an inductee of the National Honors Society and the Cum Laude Society, a significant recognition of academic achievement (top 10 GPA in his class).
While Aron is the first to admit that he isn't the most studious person, but what separates him from others is the goal he persistently works towards. Here is Aron explaining this further:
"I am actually not a very self-disciplined student. After school, I usually like to nap and relax. But I think no matter what you do, once you make up your mind, don't overthink the difficulties you may encounter, and spend time doing things that interest you and are challenging. So, don't rush for success, and don't get discouraged. I wanted to get better at swimming, so I joined the team. At first, I felt terrible, knowing that I would get up at four o'clock every day, but I got used to it after a while. It made me cherish every morning that I could sleep in! "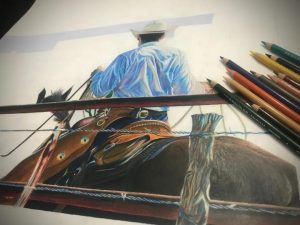 Aron applies this same philosophy to his thirst for architecture. Besides his core classes, Aron has made it a point of emphasis to strengthen the skills he needs for a career in architecture. Aron makes the conscious decision to take at least one visual art class every semester. He has taken AP 2-D Art and Design course, a college-level design course where students refine and apply skills and ideas they develop throughout the course to produce two-dimensional art, outside of school.
As a student of the Tab Bird Honors College program at All Saint's, Aron completed a Junior Honors Thesis, in which students engage in a year-long study on a self-selected topic. Each student reviews literature, conducts their own original research using qualitative and quantitative methods, analyzes data, and defends their study to a panel of judges. Aron's thesis combined his passion for architecture and the importance of mental health in studying how architectural elements can be used to express and visualize depressive emotion to raise public awareness of depression in China further (click here to see Aron's thesis defense).
Aron's love for architecture runs deep as it combines many of his personal and intellectual interests:
"I like architecture because I have always liked painting, design, and things related to creativity. I feel that the combination of architecture, sensibility, and rationality expresses certain emotions and thinking through art and design as a medium. It also has a sophisticated logical side. It can also serve as feedback to society in different forms and reflect social phenomena through design and affect people around you."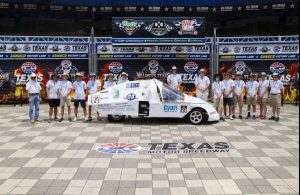 In addition to his many academic pursuits, Aron participates in a variety of extracurricular activities at school. Aron is a student ambassador at All Saint's and helps represent and promote the school on and off-campus. He is also involved in the school's Solar Car Team, who spend the year designing, building, and racing their own solar-powered vehicle. The team competed in the National Solar Car Challenge race at the Texas Motor Speedway. More recently, Aron joined the school choir, Heart 2 Heart, a vocal production which has performed at Carnegie Hall and in Killarney, Dublin, Prague, Vienna, and Salzburg.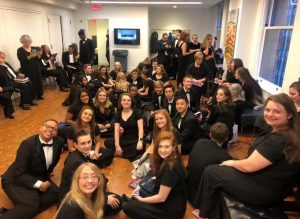 Even for a student who has everything seemingly planned out, Aron also had his initial adjustment period during his study abroad:
"First of all, for international students, having a host family is very important. In the beginning, I had some of my bad experiences, which would affect my physical and mental health and academics to some extent. With my Student Development Manager (SDM) Mathew, I have found a very friendly and supportive home for me. To a large extent, I can enjoy life while studying seriously with my new family. In school, it was difficult for me to integrate into American classmates' circle and adapt to the new culture at the beginning. I think my adaptability is relatively poor, and I am less confident, and my English listening was not good at first. The biggest turning point for me was the second year I met a group of students who spoke different languages ​​but had the same interests and views. Getting along with them has made me more and more confident and discovered the joy of campus life. At the same time, my understanding of English and American culture has also been rapidly improved."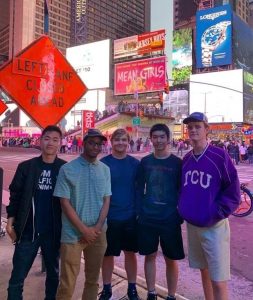 Aron offers this piece of advice for other international students:
"The most difficult thing for me this year was in addition to my schoolwork, I still had to prepare my architectural portfolio. So, my suggestion is to prepare early for activities, university applications, and standardized exams. If you have a strong interest in a certain field, it is recommended to apply to a program at an American university during the summer vacation, which is a good learning opportunity to clarify your interests."
This summer, Aron initially planned to take part in a summer program at Washington University in St. Louis. But due to the pandemic's impact, he is now planning on participating in an online program at Columbia University.
"Aron has been a great addition to our lives. He is so engaging and has a great sense of humor. He is dedicated to his studies and is so well-adjusted to his school and home environment. We are very lucky to share in many of his high school experiences." – Cambridge Network SDM Mathew Tilley
—
Click here to see last month's Student Spotlight!
For students interested in Cambridge Network, please click the "Contact Us" button or follow this link.
For schools interested in Cambridge Network and our services, please submit an inquiry form