Christina (Yiting) Zhang is a three-year Cambridge Network student, and this summer, she graduated from The John Carroll School (JCS) in Bel Air, MD. Around her peers and classmates, she is known for her can-do attitude and her willingness to confront her fears head-on. Christina describes herself in three ways, first and most importantly, as a bubble tea lover, then as a world traveler, and finally, as a risk-taker. In fact, Christina is a licensed scuba diver and has traveled extensively throughout South East Asia to explore the tropical waters of the region. She is always on the lookout for her next adventure and at the top of her to-do list are skydiving and bungee jumping. Recently, Christina reflected on her international student experience and her time at JCS.
When Christina left her hometown of Shanghai, China, she decided to take on a new challenge, which was to study abroad in the United States. She enrolled at JCS through Cambridge Network with hopes of furthering her personal and academic goals. Here's Christina on why she chose Cambridge Network for her international student experience, "Cambridge provided me the opportunity to enrich my social and academic life."
The first year is usually the most challenging period for most international students as one could imagine. Students often must quickly adjust changes both inside and outside of the classroom and live independently away from their family while trying to learn and communicate in a secondary language. Even for international students who are very proficient in English, these cultural barriers often make it hard for them to become fully assimilated into their new communities. Christina describes a similar experience when she first enrolled at JCS, "My biggest challenge was fitting in with American students, the cultural differences built up a wall between them and me…We don't always get their jokes, and they don't understand our behavior."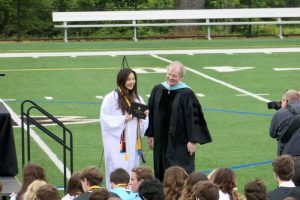 This transition usually takes some time. Cambridge Network assigns each student and their school a support team to ensure international student's needs are met throughout their time in the U.S. Our Student Development Managers (SDM) advocate on the student's behalf and assist in any residential and academic-related issues. Christina recalls her SDM Jessie helping her through this transition, "My first year was especially hard, it was Jessie [Christina's SDM] who helped me through all the difficulties and with her help I landed in the hands of a wonderful host family."
With the help of her SDM and host family, Christina soon integrated into her new school and home:
"I think I got the best host family ever. They treated me like their own child. They took me to a lot of places around Bel Air, and even to Washington DC and Philadelphia. I am so attached to them that I see them as my second family. My host mom, Lin, is just like my mother. At home, she cooked Chinese dishes for me, or she took me out for delicious food whenever I am homesick. My host family was so nice to me that I don't think anything I do could repay their generosity."
Christina served as the President of the JCS's UNICEF Club, which advocates and fundraises for global humanitarian issues. She was elected as Junior Class President by her peers, and she started the International Culture Club at her school to provide opportunities for international and domestic students to learn about each other. The American Association of University Women recognized Christina with The Judith Resnik Award for outstanding performance in mathematics and science and participation in advanced placement courses. Christina artwork was also featured at the Association of Independent Maryland & D.C. Schools Student Art Showcase. When asked about what motivates her to reach her goals, Christina had this to say, "I am a very competitive person, it doesn't matter how hard the task is, I just love to challenge myself until I achieve my goal."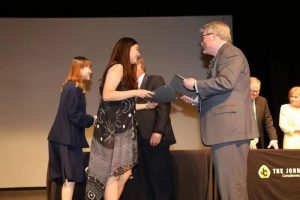 In the coming weeks, Christina will again set off on a new adventure as she starts her first year at the University of California, Los Angeles, where she plans on studying architecture. As her time as Cambridge Network student draws to a close, Christina leaves behind this piece of advice for other students looking to study abroad:
"My advice is that it is always better to be early than late. You should start college application earlier so that you won't be so occupied in Senior year. And do not just attend extracurriculars to make your application look better, do it for your own interest. Don't be afraid to talk to others; you will always find your kind of people."
Click here to see last month's Student Spotlight!
For schools interested in Cambridge Network and our services, please to submit an inquiry form.