Leo Chen, who is originally from Changzhou in Jiangsu Province, joined Paraclete High School in California this fall as a freshman. Lancaster, CA, where the school is located, is close to several important sightseeing landmarks in Southern California such as The Hollywood Sign and Joshua Tree National Park. Since his Cambridge Network New Student Orientation, Leo has been adjusting quite well to his new environment. In just three months, he has become an outspoken leader amongst his classmates.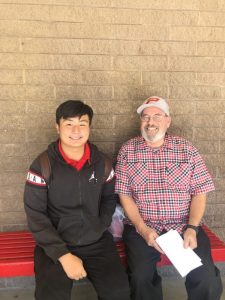 Before studying aboard, Leo attended an international school in China, where his instructors and even his tutor was American. Leo is also an avid basketball fan since he was a young child and was quite excited to have a Chinese American basketball coach at his previous school. Through his interactions with his American teachers, Leo arrived in the United States with a solid foundation of English. In Leo's own words:
"I have no problem with my English oral communication, even one or two years before I went abroad. I am very grateful to my original school teacher, especially my American basketball coach. I had been practicing my English with him. Language is very helpful for a newcomer because it has helped me open a lot of doors and I have made many friends, what I need to improve now is my grammar."
Because of these previous interactions with his American teachers, Leo arrived in the US feeling comfortable with not only the language but also the cultural differences. Of course, Leo's own natural and outgoing personality brings a lot of positive energy to his study abroad experience.
In July and December of each year, Cambridge Network hosts pre-departure orientations (In-Country Orientation) for students and their families in their home countries throughout Asia. The sessions include a variety of topics directly addressing an international student's upcoming journey, including study preparation, residential life, travel guidance, college applications, conflict resolution, parent support, and much more. Topics are adapted to the evolving needs of the parents and students and help set expectations for success. Leo attended the In-Country Orientation in Beijing in July 2019, he said that, "The content of the sessions was thorough, and there were also impressive activities to adjust the atmosphere. Many of the suggestions were applicable and beneficial once arriving in the United States."
Although this was not the first time Leo had come to the United States, he was still a bit nervous to start his long-term study abroad. However, the comfort of his new home, support from his host family, and the convenience of the surrounding environment quickly reassured Leo. He was happy to introduce his new home to us:
"The city I live in is called Palmdale. My host parents are Ilka and Tim. The community I live in has a basketball court, which is the most fun thing for me. My room is simple and comfortable, and I feel quite lucky since I got to decorate the room myself. Anyone that loves basketball wants to have their room be basketball themed, so I was so happy to be able to do that. This is my favorite corner!" (Leo made sure to show off his backpack from Cambridge Network, circled here)
Leo went on to mention, "Even though I still miss my family and friends in China, I feel excited and positive because I am looking forward to my new high school life."
At first, Leo was surprised and amazed by the fact that he no longer needed to bring his textbooks to class since Paraclete distributes iPads to all its students instead of traditional printed text. Leo also likes that students in American classrooms are assigned by learning level rather than age because it has allowed him to interact with other students that he might not otherwise meet. The various classes and extracurricular activities allow students to work together every day to become friends who help each other, encourage each other, and learn from each other.
Leo usually arrives at 7 am every morning for school, and classes end at 2:45 pm. Afterward, students can choose their extracurricular activities. Leo loves basketball, so he often participates in the basketball training after school. For lunch, Leo is still adjusting to American tastes, he usually brings lunch prepared by his hosts. He mentions that he's fortunate that his host family takes consideration in helping him acclimate to the food by making him rice dishes.
When asked what the most significant difference between American and Chinese schools was, Leo said frankly:
"Although American high schools are more relaxed and pleasant, they are more difficult in terms of knowledge." When Leo has difficulty understanding a topic, he goes directly to the teacher to ask questions after class. He goes on to say, "American teachers actually like you to ask questions if you encounter difficult assignments, I usually try them out on my own first. I try to get the most direct guidance from the teacher, and then try to figure it out independently."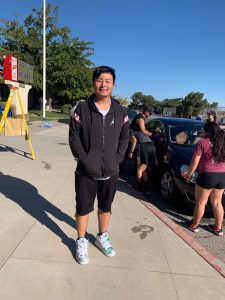 Leo is also very active in Cambridge Network's Cambridge UP program, an interdisciplinary online curriculum designed to prepare international high school students for the cultural adjustment of studying abroad and improving their academic and social-emotional growth. The program is offered to Cambridge Network students to supplement their learning through skills development and culturally-relevant activities. This month, Leo was recognized as the Student of Quarter for Cambridge UP, where he was awarded for his willingness to share ideas and engage in class discussions. His Cambridge UP teacher Stephen Glaspie had this to say about Leo:
"Leo is such a great student. He brings his fun personality and passion for learning to each class. He has made great friends with the other students and is always excited to join Cambridge UP each week!"
In addition, Patty Gutierrez, Leo's Cambridge Network Student Development (SDM) also noted:
"Leo is very passionate about all the things he does.  He really gives 100 percent.  He is very dedicated and disciplined.  Leo is a very positive young man.  He is very friendly, and he already made a lot of American friends.  All his teachers like him very much.  Leo's host family enjoys having him because of his positive attitude.  He is already part of their family.  I am very proud to be his SDM."
Leo leaves this piece of advice for his peers and anyone looking to study abroad:
"Working hard to improve English is naturally important before studying abroad and after coming to the United States, but more importantly, is understanding American culture. Even you speak English easily, if you don't understand American culture, it is still difficult to integrate yourself into the community. After all, each country's culture is different. Knowing the culture of each country can deepen your understanding, which is why I think I've gotten along so well with everyone."
One last thing, Leo wanted us to share this video of his unique talent of being able to dribble a basketball while solving a Rubik's cube with one hand. He's still not sure if he should include this in his college application, but let us know what you think!
—
Click here to see last month's Student Spotlight!
For students interested in Cambridge Network, please click the "Contact Us" button or follow this link.
For schools interested in Cambridge Network and our services, please submit an inquiry form.