Four years ago, we interviewed Bishop Miege High School student Lucy Hu as a newly enrolled freshman from Shanghai, China navigating her way through her first year abroad. From the start, Lucy had demonstrated her incredible talent and love for performing at Bishop Miege, where she quickly became a staple in the school's musical productions and choir. Recently, we sat down again with Lucy to hear her reflections on her international student experience as she prepares for her graduation and journey after high school.
Lucy has been a performer for her entire life; she started learning dance and piano at the age of four. But when she first arrived in the country, she felt hesitant to try even these seeming familiar hobbies and activities, "I was scared of trying out or auditioning since I didn't even know what I was supposed to be doing. The first step is always difficult." She gives a lot of credit to her parents' for helping her breaking through her initial apprehension, "since my childhood, my parents have always encouraged me to try everything." Lucy goes on to add, "I am thankful for those encouragements because now I have so many hobbies: singing, dancing, music, sports, and traveling."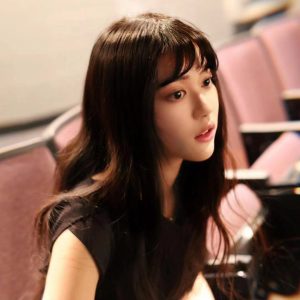 In her freshman year, Bishop Miege put on a production of the musical Grease. Lucy did not know much about the storyline, or the role of Cha-Cha she was thinking about auditioning for, "I was not sure what a musical was, but I knew there is a style of dance called Cha-Cha." And with the support of her parents and friends, she decided to give it a shot. When Lucy came into the audition, she was quite surprised to found out she wasn't just trying out for a dancing part and that she would have to sing and act too. When the director asked her to read from the script, she struggled. She felt discouraged. But then the director asked if anyone would like to demonstrate their dancing skills in front of the crowd, "I did not know where that braveness came from, if someone asks me again today, I would never stand out and do a solo dance, but the decision I made that day changed my life." The director decided to cast Lucy as "Cha-Cha", one of the main antagonists in Grease and reputedly the best dancer in the story.
Since then, Lucy has gone on to be involved in more school activities and organizations than she can count. She's participated in the school's Choir, Band, International Thespian Society, Math Team, Scholars Bowl, National Honors Society, Tennis Team, Track Team, Swimming Team, and managed the Girl's Basketball Team. Exploring experiences has been a personal goal of Lucy's, "I wish to try as many things as I can; each experience is so precious to me." But she also takes careful consideration in managing her time, "when I figured I was getting too tired from some activities, I would take them out ." She often would take advantage of her time during even rehearsals, "when I have musicals and plays, which rehearse almost every day, I would do my homework when it wasn't my scene." One of her favorite memories while at Bishop Miege was getting the opportunity to choreograph her group's dance performance for the Lip Sync Battle held at the school's pep rally each year, "it was my first ever making a choreography; fortunately, we won first place in front of the entire school."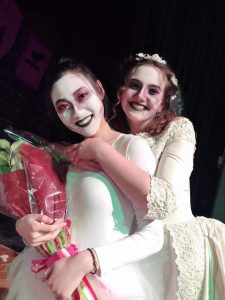 Lucy continues to reflect on her international student experience through Cambridge Network:
"The biggest challenge is always taking the first step in anything. First three years, I had Mrs. Rosalind as my SDM. I loved her so much, and even now we send Christmas or birthday cards and call each other regularly. She helped me resolve lots of issues. Due to my crazy amount of activities, I had to move to a house closer to school. Cambridge helped me find a host family living right across the school. I have Ms. Nancy now, and she is more like a big sister. She understands us, and there's no generation gap with us. We like to talk to her more than anybody else."
Lucy hopes to pass on the same encouragement given to her by her parents to her fellow international students, "Challenge yourself, become independent, try new things, work hard, you never know how cool you are going to be, and you'll probably next Cambridge Network Spotlight Student!" Lucy will be attending the University of Rochester next year, where she plans on majoring in international relations and music. She will be enrolling in the spring of 2020, and in the meantime, Lucy hopes to volunteer and explore the world as much as she can.
Click here to see last month's Student Spotlight!
For schools interested in Cambridge Network and our services, please to submit an inquiry form.