Daoism or Taoism is a philosophical and religious tradition of Chinese origin dating back to at least the 4th century BCE. Its principles emphasize the pursuit of the ultimate truth, the Dao (literal translation – "the Way"), where its fundamental ideas involve living in harmony with the universe through naturalness, simplicity, and humility. Cambridge Network and St. Anselm's Abbey School senior Mike Hu is quite the expert on the subject, he recently completed a 50-page independent research project on "Daoist and Ch'an Buddhist Perspectives on Nature & Daoism's Impact on Ch'an Buddhism" (click here to read the full essay) which was published in The Concord Review, history journal which publishes exemplary history essays written by high school students. Mike's personal philosophy aligns well with these Daoist teachings, whether by coincidence or intention. Despite conducting multiple independent research projects outside of school and writing a college-level thesis paper, Mike humbly characterizes himself as someone that enjoys modest pleasures like most other high school students:
"I would say I am a very chill person. I don't really spend a lot of time on my schoolwork. I like to spend my time doing things I enjoy, like reading and playing videos."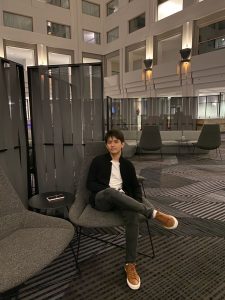 Mike's unassuming and straightforward demeanor is reflected in his approach to academics and learning. Although he doesn't put much pressure on himself to get best grades or test scores, his priorities remain clear and harmonious with who he is as a person, "I don't think I spend that much time studying, and I'm satisfied as long as I have a fairly good grade; personally, I just want to live happily." This seemingly nonchalant attitude towards academics runs counterintuitive to what we usually expect of students from contemporary Chinese classrooms where performance and outcomes are so heavily underscored. Further highlighting this contrast is Mike's passion for liberal arts studies rather than science and mathematics, "Unlike many other Chinese students, I am mostly interested in subjects like History and Philosophy." For Mike, the pursuit of his own truth is what motivates him as a scholar, not just his grade point average. Mike is bashful but, at the same time, deeply passionate and committed to pursuing his curiosities. A few summers ago, Mike worked with Prof. Adam Mckeown, an expert in Chinese History at Columbia University, on a separate research project on the "Han Dynasty's Foreign Policy and its Integration with the Silk Road". If you just speak to Mike or read his essays, you would think he was a native English speaker, but that's all due to the hard work he puts in outside of the classroom. Since last year, Mike has taken ESL classes through Cambridge Network Academic Services, "I think the meetings every week with Ms. Pacheco during my Junior year when I was taking a tough English class really helped me improve my writing skills and my overall English ability."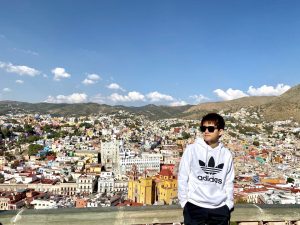 Mike's dream school has always been Columbia University since spending time in New York when he was young and taking a class taught by a Columbia Professor. Recently, he received his acceptance to Columbia, where he will be enrolling in the fall. Mike attributes much of his success to his international student experience at St. Anselm's:
"Not a lot of high schools in the US have such a high academic standard. We are required to take a number of AP classes, and the teachers are very responsible and would teach the class just like it would be taught in a university. I don't think I could have found a school as good as St. Anselm's without the help of Cambridge."
One piece of advice Mike would give other international students is:
"Take it easy. Don't push yourself too hard. I think it is already a privilege to get to study in the US, so be open-minded about the things around you and never fear to try out new things."
"It was a pleasure working with a young man who exemplified the values of St. Anselm's. He worked tirelessly on his assignments and was always willing to put in the extra time that moved his writing from good to great. He has shown his care for the community by being involved in several community service projects. It has been a pleasure getting to know Mike and watching him grow into the accomplished young man he is today." – Sandra Pacheco, Cambridge Network ESL Teacher
—
Click here to see last month's Student Spotlight!
For students interested in Cambridge Network, please click the "Contact Us" button or follow this link.
For schools interested in Cambridge Network and our services, please submit an inquiry form