Patrick Liao arrived in Wyndmoor, Pennsylvania, from Zhuhai, Guangdong province, China, in 2016. Patrick isn't shy to talk about his initial challenges when he first decided to study in the United States, "Before coming to the United States, I was basically a couch potato, I didn't have special interests besides playing video games, and I wasn't good at sports." Things started to change when he came to La Salle College High School, but not without first encountering a few obstacles.
Before starting his study abroad journey, Patrick worked hard to study his English for the TOEFL (Test of English as a Foreign Language), an admissions requirement for many international students looking to study in the US. Patrick wanted to make sure he had a smooth transition when he started at his new school. Despite scoring a 91 out of 120 on the exam, Patrick soon found out that communicating in English would be an uphill battle for him, "I thought I had done enough to prepare for my high school courses, but I was proven to be wrong." Even for the best English speakers, this is still a familiar feeling for international students when they first arrive in the US, which was the case for Patrick as well, "My biology course still gives me headaches from my freshman year, and Literature was even worse, it was hard trying to read science articles and literature at the same time." For many international students, it becomes difficult to interact and communicate with teachers, counselors, and other students, especially when trying to ask for help. It can be quite frustrating when even the act of asking for help becomes troublesome because of miscommunication, which then further compounds second language anxiety.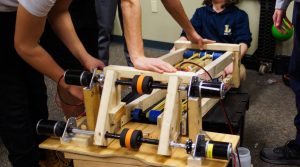 But through his hard work and extra time spent outside of the classroom, Patrick was able to adjust. He started taking additional online courses as well as getting Chinese versions of his readings to help supplement his learning. Patrick continued to challenge himself by taking on more rigorous classes, including nine Advanced Placement classes. He even decided to study Micro and Macroeconomics so that he can have spirited dinner discussions with his natural and host parents, the Murrays. Patrick soon found passions of his both inside and outside of the classroom. Patrick is a core member of La Salle's Robotics Team. The team competes in the First Robotics Competition, where Patrick has been an integral part of the programming team, and they won the Engineering Inspiration Award at the district competition and qualified for Mid-Atlantic Region Championship last year). He has even written computer programs for advanced data analysis, which he has made available for anyone to use. Patrick also attended a summer engineering program through John Hopkins University, where he earned an A in the course and received college credits. He also is very interested in photography and has an Instagram dedicated to photos of foods he has eaten and the places he has visited since starting his studies abroad.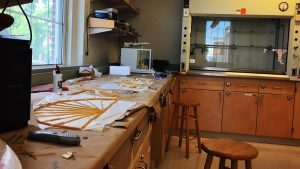 Patrick also had a similar experience adjusting and adapting to living with a host family. Patrick came to realize that selecting a host family that suits your individual needs was essential to having a great homestay experience. When Patrick chose a host family from Taiwan, he thought that he would be walking into a homestay experience that would feel familiar and comfortable. However, what he didn't expect was that Cambridge usually advises students to pick American host families that don't have similar backgrounds, so that students can get the most out of their cultural and language emersion experience. For Patrick, it was tough to get the specialized support and communicate the intricacies of being an international student navigating life in his new American community. He worked with his Student Development Manager, Rudy, to transfer to a new home and find his perfect match in the Murray family, "We chat about stocks and American culture, I enjoy going on trips and eating with them, they are my best friends."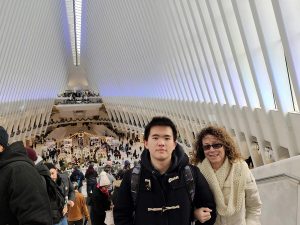 Recently, Patrick received the news of his early acceptance to New York University, where he hopes to continue exploring more about his deep passion for computer science and programming.
"Patrick is a very accomplished student at La Salle. His curiosity to learn new things and to do so with passion, embodies his success in life." – Nary Smith, French Language Teacher & Coordinator of International Students Program at LSCHS

"Since Patrick's arrival in our program, there were some hurdles to overcome. From adjustment to a different educational system to learn not only English but also Spanish in his first year. That never discouraged Patrick from pushing himself and overcoming the obstacles. It made him a stronger, brighter individual that I am proud to call one of my students. I know Patrick will walk away from his experience prepared to handle the hurdles of college life at New York University." – Rudy Vidal, Cambridge Network Student Development Manager
"It's incredible just how much a part of the family Pat has become that short amount of time. We feel very fortunate to be hosting Pat. He's a remarkable young man who is very passionate about life and learning. We all enjoy his company and have lots of great conversations during mealtime about all sorts of topics. Some favorites are technology, the stock market (Pat's parents both work in the financial sector), and whatever is going on in the world that day. In addition to exposing Pat to our unique blend of American and Italian culture, we've been learning just as much from him about his culture and experiences. This has been the most rewarding part of hosting for us." – Matt Murray, Cambridge Network Host
—
Click here to see last month's Student Spotlight!
For students interested in Cambridge Network, please click the "Contact Us" button or follow this link.
For schools interested in Cambridge Network and our services, please submit an inquiry form