The holidays are a time to reflect on our blessings and show appreciation to those in our lives. For Pope John Paul II High School senior Rita Fan, it means getting up at 3 a.m. to help those less fortunate in her community. Since moving to the United States three years ago from Henan, China, she has volunteered every holiday season at the Shepherd's Center at the St. Joseph Church in Madison, TN. During Christmas and Thanksgiving, the volunteers at the center serve more than 600 dinners a night to those in need. Despite waking up in the wee hours of night, Rita is ready to work with a big smile on her face. She sees volunteering as her way of giving back to the community that has welcomed her with open arms, "It's a very meaningful thing – you enrich your experience, meet a variety of people, and you get to practice your English while getting a better understanding American culture."
But Rita doesn't just give her time during the holidays, she works all year round to contribute to the greater-Nashville area. She helps teach art at the Room in the Inn, an organization that provides education, self-help, and development programs for the homeless community of Nashville. Rita also volunteers for Habitat for Humanity through her school to help build new homes for families in need. At school, Rita is equally involved in club activities such as the Science Olympiad, Math Club, and Bowling Team, who placed second in the Tennessee State Championships last year. To keep up with such a busy schedule, Rita often plans out her studying and extracurricular schedule out in advance:
I think planning is important to allocate your time reasonably and efficiently. JPII is an academically rigorous school, which is excellent! For me, because of bowling, I have plan my studies in advance, so I know when to do homework.
One essential thing Rita has learned during her time at JPII is that having open communication with teachers is important, "If you feel that you need more time to complete your homework, you must talk to teachers in advance; many teachers are very good, they will understand if you need extra time to submit an assignment." When asked to describe her school, Rita mentions, "while may not know Pope John Paul II yet, you may have heard of Taylor Swift, whose brother is an alum, and her music video, You Belong with Me, was shot at our school." JPII also boosts other notable alumni like NFL wide receiver Golden Tate.
Rita goes on to discuss some of the initial challenges she faced as an international student, "When I first arrived, the language was the biggest struggle especially in Theology class, I didn't understand the class and had problems with my homework, which is a problem everyone will encounter." While Rita found this initial transition to be difficult, she reiterated that communicating and asking for help was critical to her adjustment during this time:
The teachers are very patient and don't find it difficult to ask more questions, and I never felt like I was bothering my teachers. In the US, it is different because the teachers like for you to ask questions and show that you are trying hard. I figured that test scores don't mean everything, even though it was my goal to get good scores. It was better to stop and think about all that I have gained in the process and how much I have learned.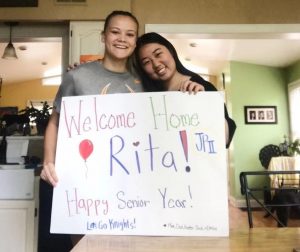 This same approach of patience and communication was applied to Rita's adjustment to living with her host family, the Williams family. Rita had this to say on how her host family has helped her throughout her international student experience:
I feel so lucky to be in my new home with the Williams family. They treat me like their own children, help me when I need it, and accompany me when I am sad. Communication and tolerance are important. Differences in language and culture make us misunderstood sometimes, but it is not malicious. The reason why my relationship with my family is good is not because we haven't had any conflicts, but we always reconcile through communication.
Rita also is thankful to how much support she has gotten from her Cambridge Network Student Development Managers, Emily and Diandian:
I want to say thank you to Emily and Diandian, in particular. They helped me so much and given me so much warmth. They are like my family. They usually have lunch and chat with our international students at noon, and they bring us delicious snacks. Emily was pregnant with a baby the year before last, but this did not affect her love and concern for us. I am grateful to them, and I am thrilled that they are in my life. Thanks also to everyone in Cambridge who works quietly behind the scenes to help us, students and parents.
One piece of advice Rita would give to any international students that are interested in studying abroad is, "I want to say something pretty simple, trust in this process and that tolerance, acceptance, communication are the most important things." Last month, Rita received her acceptance to Indiana University. She hopes to be earning more acceptances to other top choices very soon and plans to pursue a career where she can continue to help others.
"Rita Fan is a self-driven and motivated young lady who captures the essence of growth, adaptation, and excellence.  Her smile lights up a room, and her kindness radiates the halls.  She pushes herself to achieve greatness at the expense sometimes of personal time yet makes room for socialization and fun. She is open to learning about the American culture by immersing herself fully in the experiences that the environment provides. At the same time, she maintains her truth for her own Chinese culture in her innate mindset in studies, discipline, and spirituality.  JPII has high standards and expects greatness from the students. Rita is a prime example of a global partnership where ethics and morals are the essence of decision making. I am honored to have been part of Rita's journey in life."

– Susan Deely, English Department Chair, English Teacher at Pope John Paul II High School