When Sage Liu, a Cambridge Network and The Gunston School senior, first heard of the novel coronavirus (COVID-19) spreading in her hometown of Wuhan, China, she was devastated. Her thoughts first went to worrying about her loved ones living in the city while she was thousands of miles away. But as she read more news about the virus, Sage was motivated to unite her new community and fight the misinformation she saw in the media and online, "I came up with the idea that I would give a speech to my American classmates about the virus and my hometown of Wuhan." Sage's goal was to dispel stereotypes and the notion that those suffering as victims of the coronavirus were any different than those living without it, "Wuhan is a city of 11 million people, which is bigger than New York City, and no, we don't all eat wild animals." "
But giving a speech in front of your entire school is no easy feat for anyone, especially not for an international student whose first language is not English. Doubt crept into Sage, and she put the idea of her speech away for now, "I didn't have enough courage, so I flinched." It wasn't until news of Wuhan and other major parts of China being locked down as well as medical supplies shortages in the country that Sage knew that she couldn't hesitate any longer. She decided that she needed to do something to help. So, Sage went to Mr. Miller, the Director of Diversity, Equity, Inclusion, and Global Programs at Gunston, who encouraged her to give the speech and to hold a fundraiser. That night after talking to Mr. Miller, Sage went home to finish her speech. The next day, she stood in front of her school as an international student ambassador for Wuhan and delivered this speech:
"As humans on this earth, we are all weak in the face of this virus. I really want people to understand that — — Our Enemy is the coronavirus, not Wuhan, or the Chinese people." (see below for full speech)
Along with her fellow students, Sage organized a "Dress Down Day", where students and faculty could give a monetary donation to dress in casual attire for the day. Sage's fundraiser raised money for the Red Cross Society's Hubei Branch in China:
"The Gunston community is really warm and supportive! We earned a total of $751.02. Every donation, big or small, makes a difference! I can't tell you how grateful I am to the sweet Gunston Community!"
Sage's actions not only brought together her community at Gunston to help those in need, but it also allowed her to see past her own doubts and fears, "Through holding the fundraising, I found the huge power and potential inside myself. I'm more confident that I have such abilities to do more!"
When Sage first arrived at Gunston as a junior, she went through the sometimes tricky initial stages of adapting to changes in culture and language in a new environment:
"Language was my biggest challenge when I first came here. All the English books and American government classes drove me crazy in the first week. I can't join class discussions, and I need three times as much time to finish my English homework."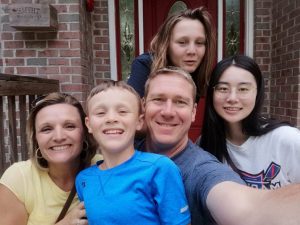 But with the help of her Cambridge Network hosts, the Stanton Family, Sage was able to adjust quickly:
"My host parents are the nicest people! I have a great time with them. This is like my second home! I learned a lot about traditional American cultures like Easter and Thanksgiving celebrations. They are always here for supporting and encouraging me. I really appreciate I met them! Under this English-speaking environment, undoubtedly, my language skills improved."
Also, supporting Sage through her international student experience was her Student Development Manager (SDM), Deborah:
"At Chinese New Year, our SDM, Deborah, held a big hot-pot dinner. All the international students were there, and we had a really memorable night! She visits us almost every week, and every time, she'll bring lots of Chinese snacks and give to us! Cambridge network also translates the school's information to my parents timely which is really helpful."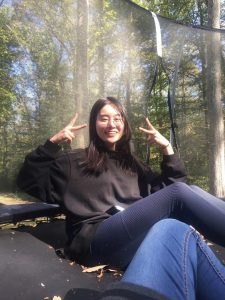 One piece of advice Sage would offer to other international students is:
"I'd like to recommend choosing a host family. It will let you learn more aspects of the American family's daily life, culture, and thinking. And don't be afraid to join class discussions. You will become more comfortable and proficient if you do so. Push yourself out of your comfort zone!"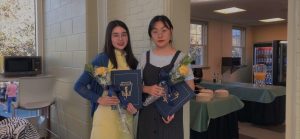 Sage plans to attend the University of Amsterdam soon, but before then, she will be taking a gap year and returning to Wuhan for an internship.
"Since the first time I met Sage, she has been consistently cheerful, friendly, and enthusiastic. I have enjoyed every encounter I've had with Sage.  In addition to academic challenges, Sage has had to face other challenges too, the most difficult, I believe, was dealing with being separated from her family in Wuhan as the coronavirus intensified and spread from there. In response, Sage asked to speak to the entire student body at morning assembly and gave a thoughtful and well-researched presentation on the myths and facts of the COVID-19 virus and asked her classmates to remember that just because the COVID-19 originated in China, doesn't mean it is a Chinese virus or that Chinese people are to blame.  She reminded everyone that we are all human and are all afraid of this disease, but now is the time to support one another, not blame and alienate." – Deborah Turner, Cambridge Network Student Development Manager
—
Click here to see last month's Student Spotlight!
For students interested in Cambridge Network, please click the "Contact Us" button or follow this link.
For schools interested in Cambridge Network and our services, please submit an inquiry form