Lily Yang and Walker Hu are both in their final year at Crossroads College Preparatory School in St. Louis, Missouri. As Cambridge Network seniors, they took the time to reflect on their experiences as international students before their start at prestigious colleges next year. Lily's journey started in the fall of 2015 as an 8th grader from Beijing, and Walker arrived two years later as a sophomore from Guangzhou, China. As with most international students, Lily and Walker encountered similar challenges during their first introduction to an American classroom – the size of the classes and the emphasis on individuality in the American culture. These two qualities are closely intertwined in their importance in the comparison between American and Chinese education systems. According to data from the Organization for Economic Cooperation and Development (OECD), the average class size in the United States is 23 students. In contrast, it's typical to find classes of 30-40 students in China, where larger classrooms mean less individual focus from teachers. East Asian countries with Confucian roots have stricter hierarchies within the school and where national pride is paramount over individuality.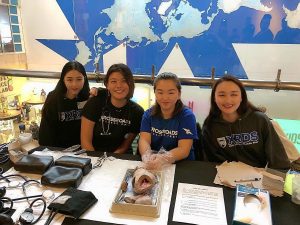 "I think the biggest challenge during my international student experience is adjusting between cultures. I will say American culture is more straightforward than what I'm used, I was a bit shy. However, it didn't take me long to realize that everybody is so nice, and I became friends with almost everybody, and I've loved my experience ever since." – Lily

"Teachers in China have never taught us how to write an essay. I've never written a three-page essay before! In order to overcome it, I talked to my teachers very often. After two years, my writing has improved a lot." – Walker
At first, East Asian international students may be seen as reserved or lacking assertiveness, but when given a chance to adapt, these same students can thrive, as is the case with Lily and Walker. Both Lily and Walker learned right away about the importance of asking for help and utilizing their support systems like teachers and host families. Lily balances schoolwork with her position as the head stage manager for Crossroad's theater program, "it can be tough between this huge leadership role and my role as a student, but I have mastered that skill throughout the years when I know I have a hectic week coming up, I will talk to my teachers and see if I can start working on assignments earlier, so I have more time to finish them". Walker's biggest challenge was writing essays in English but reached out to his hosts for help, "I always asked my host family to proofread my essays for me; I've had three host families, all of which were supportive." Lily and Walker also attributed much of their success to the support from their Student Development Manager Krista:
"She's always very helpful and kind to me. She also was like a friend who would just listen if I needed her. It's really nice knowing that there is someone who is there for you no matter what. She also let me be myself. She supported me like whenever we did the plays, she would come." – Lily

"I was interested in participating in Cambridge UP because I thought Krista would be a great teacher. I believed that I could learn something in her class. My favorite topic was about internships, Krista helped us creating a LinkedIn account to be able to find internships." – Walker
One piece of advice Lily and Walker would give to other international students is:
"Don't be afraid. I know it can be hard sometimes to fit into a new group, adjust to a new culture, and experience a very extreme change in environment. However, I think it's important to note that many people are willing to help you, and they are also really friendly, so if you can push yourself a little bit, you might make some lifelong friends." – Lily

"Instead of trying to impress colleges, try to make yourself into a better person. A good college doesn't mean everything, but getting into one means you put in the hard work. You've worked hard to become a better person." – Walker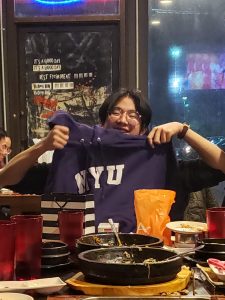 Lily hopes to study political science next year at Syracuse University, "I'm fascinated by how rules and policies are made by the people and are applied to the country". Walker will continue his interests in economics by studying math at New York University.
Cambridge Network Student Development Krista Moramarco on working with Walker and Lily during their international student experiences:
Lily is full of positive energy and can always see the positive side of any challenge. From day one, I saw an emotional maturity in her that is rare. She can take any challenge that comes her way and turn it into a personal development success. She has a true gift for reading between the lines, seeking truth, and interpreting and breaking down multifaceted scenarios into clear and simple deductions. I have no doubt that she will find herself in a position of great significance as our cultures and politics continue to grow more interconnected.

Walker has been an exceptionally diligent student from the start. Like anyone else trying to reach their goals, Walker has seen his share of self-doubt and huge waves of ambition, then with his hard work, even-temper, and rational thinking, he always succeeds. Over the last few years, I've watched him pursue several new pursuits- from playing guitar, learning latte art, tutoring math, writing fictional short stories, volunteering at food banks, and now learning computer coding in his free time. He has a fantastic ability to balance self-care, ambition, motivation, rest, and social interactions, all the while maintaining intelligence and a great sense of humor. I am so proud of his accomplishments.
—
Click here to see last month's Student Spotlight!
For students interested in Cambridge Network, please click the "Contact Us" button or follow this link.
For schools interested in Cambridge Network and our services, please submit an inquiry form