As the secondary international education market continues to shift and mold itself, there is one thing that maintains consistent within the Chinese market- the desire for an overall structure or system to satisfy the Chinese obsession with rank.
Niche is an online platform using public sets of data and survey responses to create rankings resembling report cards. Through algorithms and statistical techniques, their team creates in-depth profiles analyzing everything from schools, companies, and neighborhoods throughout the United States.
Cambridge Network realizes the importance of Niche being included in our promotion and sales processes, so we are now including members school's Niche ranking in our Chinese materials. Our team continually monitors how all third party promotion efforts of member schools. We strive to keep our partners informed on how they're being perceived in the market.
Check out your school's Niche ranking here, and be sure to review your Cambridge Network marketing profile to ensure it's up-to-date as well!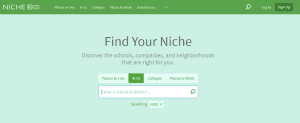 Why is Niche relevant to my school's marketability?
From a global marketing standpoint, Niche's ranking is not the most relevant or essential statistic. However, it's popularity in China has made its rankings one of the most common topics for students, agents, and natural parents to bring up during conversations surrounding US education.
Managing an international portfolio is not an easy task, and in today's world, online rankings and stakeholder gamification via massive data collection efforts are how most customers narrow their choices. Cambridge's job is to stay on top of these trends and to market best practices. Together, we can conquer and adapt to this everchanging and mass data-driven market.


How specifically does Niche collect my school's data?
Niche uses over ten public data sources (shown below) to create a school's ranking and grade report. From there, they rely on third-party reviews from teachers, parents, students, and anyone else who has engaged with the school and its community.
Unless your school has reached out to Niche directly to update your school's information, there is most likely old or incomplete data representing your school.
The complete list of data sources can be found here.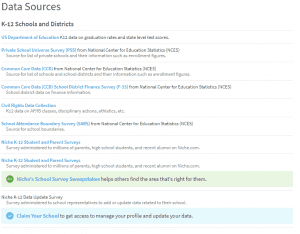 How can I update my school's information?
Contact the Niche team!
School marketing and admissions teams should reach out directly to and work with the Niche team to update their profile on an annual basis. It's essential to include on your yearly operations calendar dates to update, monitor, and analyze all channels and platforms affecting your school's brand image to minimize any potential negative impact on your school's digital presence.
Check out Beyond Niche School Rankings: Public Relations Strategies for more ways your school can improve your international student marketability.
For specific questions or inquiries about your school's global marketing portfolio, feel free to contact your Program Manager (PM) or Student Support Associate (SSA)!
Visit our blog section to learn about industry trends, international program best practices, ways to engage students, and more.
For schools looking for more information on Cambridge Network and our services, please submit an inquiry form.