With the opening of high schools in the United States in the fall, more and more Cambridge students depart their home countries and arrive in the United States. Under the care of Cambridge Student Development Managers and local host families, they are about to start an unforgettable new chapter in their lives.
Due to the impact of the COVID-19 pandemic, the procedures for international travel and customs clearance to come into the United States have become more complicated. But schools and students should not be concerned because our expert Cambridge Network staff is here to assist. Below we highlight some recent international student arrivals and the key points students should pay attention to during their travel and throughout the initial stages of their arrival.
Recommendations
Travel preparation
Students are encouraged to book direct flights to avoid potential missed or canceled flights
At present, only the negative reports of the COVID-19 nucleic acid RT-PCR Test are accepted as a boarding requirement by the Chinese Embassy. Students should apply and prepare for test reports before their trip.
Arrive at the airport 4 hours in advance for international flights.
F1 student visa and I20 documents for boarding (if the service number changes, please bring the previous I20 documents together) and an original passport with a valid visa. If the visa is on the old passport, both the new and old passports must be carried.
During Travel
Be sure to follow all COVID-19 safety measures as instructed, including mask-wearing and proper social distancing when applicable.
Customs staff will be asking for all related travel documents and your intention for traveling
After Arrival 
Communicate with your Student Development Manager and host family as soon as possible after landing.
All students will undergo COVID-19 testing within 3-5 days of arrival, and those who have tested negative can be vaccinated after completing the 7-day isolation.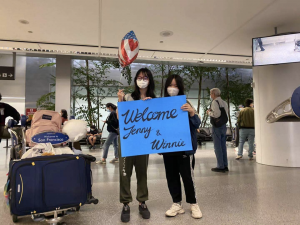 Yiwei ZHU (Jenny) is an incoming sophomore at York School in Monterey, CA. She flew to the United States with her sister and relatives and flew directly from Shanghai Pudong Airport to San Francisco, USA. At present, Zhu is quarantined at the home of Cambridge staff. She conducts self-service nucleic acid tests two days after arriving in the United States.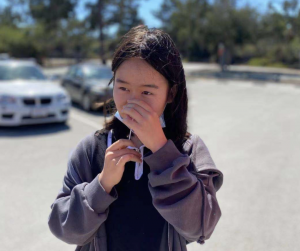 Xuanyi Fu is in the tenth grade of Bradshaw Christian School. He applied for a successful U.S. visa in early July and flew directly from Shanghai Pudong Airport to San Francisco on August 1st.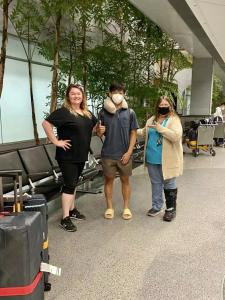 Palm Valley School senior Yousheng WANG (Ara) arriving in the United States safely and meeting his host family.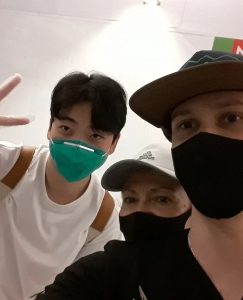 Johnny Chen from Marian High School in Indiana being picked up by his Student Development Manager from the airport. Johnny was joined by his family and received a welcome bag as he landed.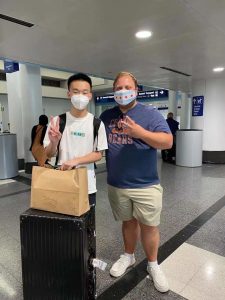 —
Cambridge Network is an international education consulting company that provides admissions, academic, and homestay solutions to high schools throughout the United States and Canada. We work to raise the international profile of high schools, enhance diversity, and provide valuable support and supervision for all Cambridge students.
For schools looking for more information on Cambridge Network and our services, please submit an inquiry form.