Knowing which countries to target as part of your international student recruitment efforts can be one of the biggest hurdles encountered by study abroad programs. One specific region that international student programs have increasingly targeted is Latin America. In particular, schools looking to boost their international student numbers have begun to recruit more in countries such as Brazil and Mexico.
While China remains the number one sender of international students to most host countries, many hosts such as Australia have refocused their recruiting strategies to target Latin America. From 2013 to 2017, the proportion of inbound students from Latin American countries to Australia has almost doubled. This trend is not unique to Australia; in the United States, Four key countries, Brazil, Colombia, Mexico, and Venezuela, rank among the top 25 sending markets to the U.S. and are poised to grow even more (Brazil and Mexico are both ranked in the top 10).
Where are these students coming from?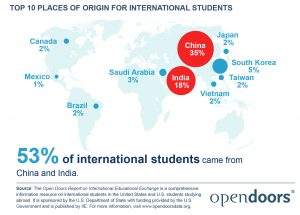 Ranking Places of Origin for International Students in the U.S.
Brazil – 16,671
Mexico – 14,348
Colombia – 7,787
Venezuela – 6,855
According to a World Education News & Review (WENR) report, long-term economic growth in Latin America's middle-income countries is creating rising numbers of students with both the capacity and the inclination to study abroad. Across the LAC region, per capita GDP increased by 50 percent between 1990 and 2013. Specifically, Brazil, Mexico, Venezuela, and Colombia have seen the most significant jumps in outward-bound mobility.
Latin American students now make up more than seven percent of international enrollments on U.S. campuses while 51 percent of students. When looking at Latin American students at the secondary level, the numbers become even more staggering – Brazil and Mexico are fourth and fifth top senders of students to U.S. high schools.
What are they looking for?
English Language Training: As globalized labor markets develop, demand for English-language skills has increased across multiple segments of Latin American societies. Governments, employers, individuals, and the higher education sector have begun to view English language skills as increasingly necessary. Given geographical location, the U.S. is an obvious beneficiary of this trend and is already a major destination country for English language training.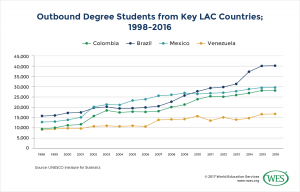 According to the report Q.S. Applicant Voices 2018 — Latin America, Latin American students are also drawn by the prestige and diversity available overseas; their preferred disciplines for study are Business/Management (22 percent), Engineering (18 percent), and Accounting & Finance (12 percent). In addition, they view problem-solving, leadership, and teamwork as their top skill development goals while pursuing studies abroad.
Potential Challenges and Obstacles
While Latin America's economy has been booming, the average income level of these countries may be lower than other senders of international students such as China and South Korea. Therefore, tuition prices will be a significant factor when Latin American students consider a study abroad program. Additionally, in countries like Mexico, high school typically starts a year later, thus throwing off recruitment timing and diploma completion more difficult. Therefore, price sensitivity and lack of interest in long-term diploma-seeking programs suggest that short-term or one-year study abroad programs may be best suited for students from Latin America.
Another major factor impacting the ability of international student recruiters to reach Latin American students? Language. While interest in acquiring English language skills is high, English proficiency is relatively low. In fact, according to the E.F. English Proficiency Index, Latin America is the world's only region to have seen a decline in average adult English skills since 2017. As a result, Spanish marketing is critical, while marketing in the correct dialog can offer an additional inside edge. Of course, this doesn't mean that students are looking for more coursework and degrees in Spanish. Still, it does mean they may be looking for more special support programs aimed at helping them develop and hone their English language skills, such as foundation and pathway programs.
—
Cambridge Network is an international education consulting company that provides admissions, academic, and homestay solutions to high schools throughout the United States and Canada. We work to raise the international profile of high schools, enhance diversity, and provide valuable support and supervision for all Cambridge students.
For schools looking for more information on Cambridge Network and our services, please submit an inquiry form.