Cambridge Network helps schools increase traction in the international marketplace and best position their brands to consider investing in their programs and building their name globally.
We are excited to welcome Palmer Trinity School, one of the best private schools in Florida, as a new Cambridge Enhance Marketing (CEM) Partner. Palmer Trinity School is an independent, college preparatory, coeducational Episcopal institution that is academically challenging and spiritually supportive. The school has an A+ ranking on Niche and is consistently named the finest Christian high school in the Miami area.
Recently, Cambridge Network, in collaboration with Palmer Trinity, hosted a global virtual open house for prospective secondary international students with over 2000 attendees. Several prospective students received interviews immediately after the event. In addition, students got the opportunity to see the school's campus firsthand through a virtual tour and speak directly with Palmer Trinity admissions representatives.
"We enjoyed doing the live broadcast about our school and especially giving the tour of our campus. We hope to have more time to show the campus and the new buildings we have just moved into. We did have inquiries and interviews right after the broadcast, and we hope after the world has beaten COVID that it will yield us more applications and enrollments. The great part about the broadcast was that it gave more Chinese families the opportunity to see and hear about Palmer Trinity."

– Danny Reynolds, Associate Head of School for External Relations
As a part of the CEM partnership, Cambridge provided translation services, promotional materials, and event coordination, as well as targeted follow-up communication to event registrants, delivered in the attendee's native language. This includes rebroadcasting live events and posting interactive forums across multiple social media platforms such as Zhihu, an online knowledge market site with over 250 million users.
CEM schools also enjoy brand exposure through digital marketing channels such as WeChat, Naver, and Zhihu. Branded social media posts on some of Asia's top social platforms included virtual school tours, student testimonials, and school profiles. Additionally, CEM schools can receive printed media promotion through our brochures at International Student Recruitment Agency events such as our Annual Agency Partner Summit, attended by nearly 190 industry-leading organizations and consulting agencies.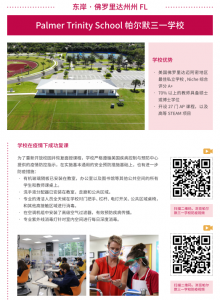 "School open house events are a great opportunity for prospective families to meet with current students, especially other international students. It's a valuable resource for both students and schools. Schools can bring in guests like current host families to speak about the residential program or other aspects of their campus. Most importantly, it's a chance for students to see how unique and remarkable your school, whether that's the ease of your application process or in the case of Palmer Trinity, the frequent sightings of peacocks on the campus." – Annie (Haonan) Liu, Cambridge Network Sales Representative
For international student programs, Cambridge Enhanced Marketing (CEM) provides an integrated marketing solution, a strategic approach to integrating communications, and interactive experiences targeting a defined global market. With this new service, your school will take an active role in international student marketing with guidance through the process by our expert student recruitment team. Cambridge Enhanced Marketing is designed to meet the challenges of today's international student recruitment market. Boost your program's visibility and build your brand by leveraging our global Network, leading expertise, and industry-proven marketing methods.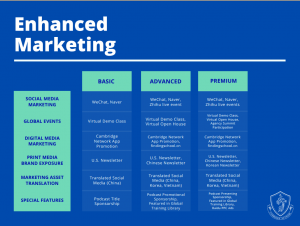 —
Please click the "Contact Us" button or follow this link for students interested in Cambridge Network.
For schools looking for more information on Cambridge Enhanced Marketing, please click here for an informational brochure or contact us at [email protected].