International study abroad is an excellent opportunity to pursue knowledge, giving students the chance to discover, explore, and cultivate their hobbies while forging an unforgettable memory and providing a cornerstone for growth.
We recently interviewed two Landmark Christian School international students, Lily and Justin, about their study abroad journeys. They both arrived as freshmen in the United States and have spent the last four years gaining the courage to try new things, stepping out of their comfort zones, and developing as leaders in their communities.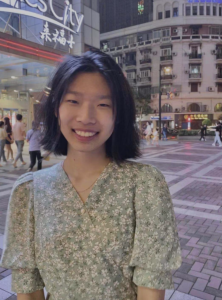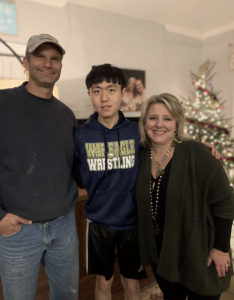 Socrates once said: "Education is the kindling of a flame, not the filling of a vessel." Thus, while competencies in core subjects such as math and science are essential, it is equally crucial to facilitate the growth of well-rounded learners and develop students' interests.
In most American high schools, musicals are usually not the first extracurricular activities for international students. This is due to the need for strong English proficiency, self-expression ability, and self-confidence in performing. These demands would be tough for first-year international students as they adapt to the cultural and language differences. However, Justin decided to take these challenges head-on and joined the musical theatre club in the first year. He was motivated by this new obstacle and the opportunity to try something new, but most importantly, he had the encouragement of his teacher.
"In a music class, the music teacher found that I can sing well, so he learned something new about me. With his encouragement and affirmation, I joined the musical theatre club. This not only exercised my English but also helped me get adjust to the school. I was excited that I found a hobby that is worth the time."
In addition, to encouraging and supporting students, teachers at Landmark are have been approachable and instrumental in helping Justin's learning progress:
"My theology teacher is very open-minded with students. If you have issues or need any help, you can always ask him to communicate privately. I have talked with him many times and gained a lot."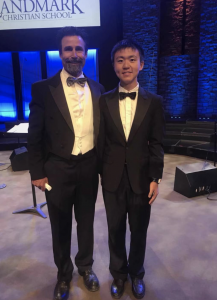 Classroom work determines academic performance, but afterschool activities determine whether students can successfully integrate themselves into campus. Clubs are a place to cultivate hobbies and a chance to make friends and learn about different cultures. At Landmark, there are 15 sports and 25 clubs that students can participate in. It is easy for students to choose their own hobbies here. For Lily, she found quite a few new hobbies in extracurricular activities and made new friends through her involvement with clubs:
"There are a lot of school sports and clubs. I participated in football, wind music, Chinese and Beta clubs. The school will also organize some spring outings. Participating in these activities enriched my spare time, and I made some good friends."
International students are often concern if they would be treated fairly in their new environments. Both Justin and Lily unanimously stated that the school community is tightly knit and has never experienced or seen any instances of bullying. Lily mentioned that, "Students and teachers treat international students very well and will take the initiative to make friends with you; it is easy to get along with the students."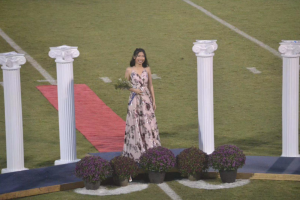 Another pressing issue for many international students is the college application process. At Landmark Christian School, students will have a dedicated team to evaluate each student's needs and situation, work with them to improve their weaknesses, and match them with the best schools possible.
At the end of the interview, both students spoke highly of the Landmark Christian School, saying that they had spent a meaningful four years there:
"I highly recommend that the younger students apply to the Landmark. My four years here are very purposeful and happy. I can't think of any better ways to spend these last four years." – Lily
For the two international students who have spent their entire high school lives at Landmark Christian School, this place not only opened a new path in their lives but also carried unforgettable memories and friendly faces.
Landmark Christian School is conveniently located in metro Atlanta and is recognized as one of Georgia's best Christian high schools and received an A+ rating on niche. The school offers a rich, relevant, and rewarding academic curriculum, taught from a biblical worldview, anchors the experience at Landmark. With exciting programs and resources, and collaborative classrooms designed to spark critical thinking and creativity, students are engaged and prepared as capable, confident leaders. In addition, classes are small, creating a uniquely personalized education.
—
Click here to see last month's Student Spotlight!
Please click the "Contact Us" button or follow this link for students interested in Cambridge Network.
For schools interested in Cambridge Network and our services, please submit an inquiry form.