International student programs at the secondary level seek to recruit diverse cohorts of international students in a cost‐effective manner. But it is of the utmost importance that these schools understand the trends of international students studying in the United States as they promote their programs abroad. International secondary students represent an important group in the U.S. education pathway as many students travel abroad for the opportunity to study at a U.S. college or university. High school international student programs allow these students to participate in extracurricular activities, gaining valuable leadership and community engagement skills, among others, that enhance their application essays and interviews.
Challenges to International Student Recruitment
A recent study, Studying for the Future: International Secondary Students in the United States by the Institute of International Education, found that international secondary student enrollment has decreased year-over-year since its height in 2016. While the number of J-1 visa students has remained stable, F-1 visa students that make up the majority of international secondary school students in the United States has dropped by 15%. The top three senders of secondary international students to the U.S. – China, Germany, and South Korea – all had declining student numbers over the last five years, while other top senders such as Vietnam and Brazil showed positive growth over the same period.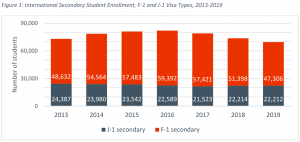 The International Education Market
One reason for this trend is that global competition for international students has heightened while domestic school fees remain high. The number of international schools worldwide has skyrocketed in recent years while school fees remain stable and competitive in many other regions. According to the ISC Research 2020 Global Opportunities Report, the number of international schools worldwide increased from 9,297 to more than 11,600 (in 239 countries and territories) from 2016 to 2020. Global demand for international education has expanded, providing students interested in English-based education more options closer to home. At the same time, the U.S. remains among the most expensive destination for prospective secondary students.
The outbreak of COVID-19 and travel restrictions along the issues mentioned above has further impacted international student enrollment in the U.S. The total number of SEVIS records for active F-1 and M-1 students decreased by 17.86 percent. The number of international students enrolled from kindergarten through grade 12 schools fell 24.6 percent from 2019 to 2020 (Student and Exchange Visitor Program (SEVP) 2020 SEVIS by the Numbers Report).
The Solution – Cambridge Enhanced Marketing
Prospective international students have more choices than ever in their school enrollment decisions. As a result, schools need to approach international recruitment with a holistic approach to stand out over the field; no longer can marketing costs be passed onto students in this competitive industry.
Cambridge Enhanced Marketing for international student programs provides an integrated marketing solution, a strategic approach to integrating communications, and interactive experiences targeting a defined global market. With this new service, your school will take an active role in international student marketing with guidance through the process by our expert student recruitment team. Cambridge Enhanced Marketing is designed to meet the challenges of today's international student recruitment market. Boost your program's visibility and build your brand by leveraging our global Network, leading expertise, and industry-proven marketing methods.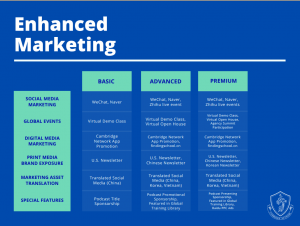 Since 2009, Cambridge Network has been a leading service provider for international students seeking to study in the United States. As an international education consulting company, Cambridge Network provides admissions, academic, and homestay solutions to over 240 high schools throughout the United States and Canada. We work to raise the international profile of high schools, enhance diversity, and provide valuable support and guidance for all our students.
For schools looking for more information on Cambridge Enhanced Marketing, please click here for an informational brochure or contact us at [email protected].
Other Resources:
International Student Numbers Decline During COVID-19, How are Schools Impacted?
How to Approach 2021 International Student Recruitment – South Korea & Vietnam Markets
Forecasting 2021 International Student Recruitment for Schools and Study Abroad Programs