June 2018, Boston, MA, U.S.A.
As a service expert in management and consulting for U.S. high school education, Cambridge Network has officially launched its brand new English website as their rebranding pushes into 2018. The movement aims at helping partner agencies and natural parents better access the latest news about studying at American high schools. In terms of positioning, content and function, it is Cambridge Network's goal to offer every student, parent and partner a more informative and user-friendly experience.
As the most widespread and formalized internet medium, corporate websites tend to be overloaded with information, leaving users confused as to where to find key information. With the development of dynamic digital marketing technologies, however, Cambridge Network's new website streamlines information, providing a clear path to the pursuit of studying at American high schools. These enhancements enable partner agencies to deliver more professional and personalized information to potential clients.
One of the most relevant sections for member schools is the School Blog, where articles on Cambridge events and news alongside industry trends are posted several times each month. Our goal is to align expectations and company-wide initiatives with schools while ensuring they're aware of macro economic trends.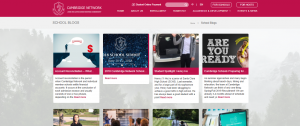 Adhering to the principle of helping children become their best selves, and fostering a new generation with better global vision, the tailor-made website has five key elements to drive customer satisfaction and bring clarity to the study-abroad journey:
New Positioning
As an internationally leading brand in harnessing back-end services for study at American schools, Cambridge's new website not only showcases its brand but presents a portal into the most reliable and comprehensive consulting services to date for students and parents from partner agencies. Likewise, the structure and framework are crafted to help parents and students access the most effective and useful information at the tips of their fingers.
Increased Functionality
Websites must be very versatile in this age of technology, not only optimized to exhibit brand image and information, but also primed to excel as an intelligent and interactive platform. Cambridge has added elements of intelligent detection and automatic associations such that users will discover it can indeed "think and act for them" while they browse, making reservations for activities, submitting questions and requirements, and obtaining help, etc. More importantly, the platform can instantly respond to their needs, making the experience more engaging and convenient.
New Content
Aside from information about studying at American schools, the new website identifies customers' pain points and drives them to relevant information. This direction discards conventional publicity schemes that center on the brand itself, focusing instead on the users. From the three easily identifiable sections, users can learn more about the latest overseas study information, including the "best fit" for American high schools, how to choose host families and, of course, potential barriers students may face while studying abroad.
Upgraded Experience
To avoid user confusion on where to find information, the new website adopts the waterfall layout, with modules for different content and detailing to clearly show users their position, and identify next steps, or what they should do.
New Color Scheme
As a woman-led company, Cambridge maintains its elegant and sophisticated color scheme, comprising the "Cambridge red" for recruitment and enrollment, the warm yellow, representing safety in homestay, and true blue, emblematic of study. It ingeniously combines the art of color with the logic of content, and anticipates readers' needs, highlighting the key features to help readers quickly identify the most useful information, and optimizing dynamic visual experience.
President and CEO of Cambridge Network, Christine Lin, shared, "The transformation of our website is aligned with the newly established strategy of the company: our focus changes from the brand itself to parents and students from partner agencies considering the possibility of studying at American high schools. We will continue to strive for every user – be that students, parents or our school members – to enjoy the browsing experience and access rich and useful information and services."
Looking to the future, Cambridge Network will continue to provide more comprehensive, accessible and reliable information for potential students interested in studying at American high schools. In terms of school selection, preparation before leaving home, professional consulting, homestay service, supervision in America and academic support, Cambridge Network will continue to offer more professional American high school study solutions ensuring every international student basks in Cambridge's philosophy of love, guidance and nurture.
On behalf of the entire team at Cambridge Network, we welcome you to experience the new English website for yourselves: www.cambridgenetwork.com
About Cambridge Network
Cambridge Network is the expert in management and consulting for U.S. high school education. As an exclusive representative for 240+ private U.S. high schools and 19 public schools in Massachusetts, the company marshals its extensive experience to provide exceptional homestay management and academic services to international students.
With their 400+ employees across the globe equipped with multilingual skills and deep cultural experiences, students are supported through every phase of their educational journey. So far 6,800 students have been accepted by American high schools via Cambridge Network, and since 2014 62% of the graduates entered the Top 100 American universities. Because of Cambridge Network's exceptional performance and growth, the company is fortunate to make the U.S. magazine, Inc.'s "Inc. 5000" list the last 4 years; something less than 10% of companies can say.
Currently, Cambridge Network has offices in four countries (U.S., China, Korea, and Vietnam) and ten cities (Los Angeles and Boston in the U.S., Seoul in Korea, Ho Chi Minh in Vietnam, Beijing, Shanghai, Guangzhou, Shenzhen, Zhengzhou, and Chengdu in China) and one region in Taiwan with exclusive partnerships.