Shaelyn Xie '21 started her study abroad experience in the United States at a coeducational high school, but she found it wasn't the right fit. In her co-ed school, Shaelyn didn't feel like there were enough opportunities to foster leadership and self-assurance for girls like her, whether in the classroom or in extracurricular activities. Before her junior year, she transferred to Regina Dominican High School in Wilmette, IL, one of the best private and all-girls high schools in the state. Shaelyn believed that a new start at an all-girls school would finally give her what she was looking for, "an all-girls school is very helpful in cultivating self-confidence and leadership, which I think is a primary factor for future success."
Not long after arriving in the United States, Shaelyn quickly adapted to school and life in the United States. She had good communication and social skills, but she wasn't without weaknesses. When she first arrived, she had scored an 18 out of 30 on her written section of the TOFEL exam. But Shaelyn was determined to improve her English. She took the initiative to meet with her English teacher to fill these gaps in her knowledge. With her teacher's advice, Shaelyn began studying and doing writing exercises to strengthen her vocabulary and English skills in her own time. Shaelyn mentions that Regina Dominican has a great avid reader culture, and she too dedicated herself to reading. Shaelyn noted that, "In American high schools, students need to have strong reading abilities, like to be able to read a few books every week because much of the homework is reading based." Even with a heavy schoolwork load, Shaelyn insists on spending two hours reading every day. It was this dedication to refining her academic weaknesses that paid off in her following exam. In the most recent TOEFL test, she scored 27 points in the writing section, nearly doubling her score and only 3 points from a perfect mark.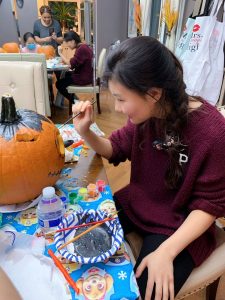 Shaelyn has continued to challenge herself both inside and outside of the classroom. During her time at Regina Dominican, she has taken seven AP courses, two of which she has studied for entirely on her own. Even though her school offers a wide variety of AP classes, Shaelyn wanted to push her limits as a learner. One of the AP classes she's taking is AP English Literature, a college-level literary analysis course. This course is usually only taken by native English speakers because of the high level of difficulty it presents non-English speakers and international students. Shaelyn has not only met these challenges, but she excelled. She has a GPA of 5.2 and tutors fellow students in math at her school.
Outside of the classroom, Shaelayn has been an involved community member at Regina Dominican. She participates in sports like tennis, bowling, and softball, as well as student groups like math club, mechanics club, musical theatre, and dance. Before coming to the US, Shaelyn had studied Latin dance for three years. At Regina Dominican, she has continued to develop her passion for dancing by learning jazz, modern, ballet, hip hop, contemporary dance. She is also involved in a community dance group in Illinois.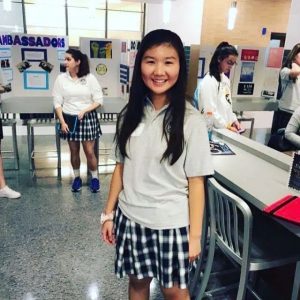 Shaelyn is grateful to her school for giving girls a platform to build their confidence:
"Our school has many leadership programs, such as Leadership Scholars Program, and some joint activities with the city center to provide girls with public speaking opportunities. These programs are beneficial for women to build confidence. And self-confidence is the first ingredient needed for girls to succeed."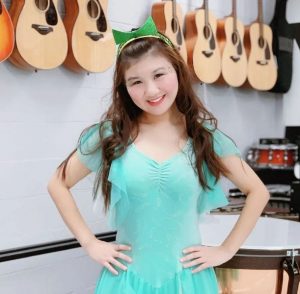 Not long after arriving at Regina Dominican, Shaelyn got her opportunity to speak publicly. At an international student event hosted by the school, students were invited to speak on stage in front of the school. When several other students declined, Shaelyn volunteered. She spoke for over half an hour on Chinese culture and her international student experience. She also hosted game sessions and a Q and A with the school. The event was a huge success and was a valuable experience for Shaelyn, who would join as a student ambassador for the school.
In reflecting on her decision on choosing Regina Dominican, Shaelyn had this to say, "One thing I like about our school is that it gives me a lot of time to explore a lot of fields I like. It's not that I only need to learn school subjects well, but I also what I want to learn, and the school is very supportive."
—
Click here to see last month's Student Spotlight!
For students interested in Cambridge Network, please click the "Contact Us" button or follow this link.
For schools interested in Cambridge Network and our services, please submit an inquiry form