Homesickness is one of the biggest challenges international students face during their study abroad experience, especially during the holidays like the Lunar New Year and Mid-Autumn Festival. As a global education service provider, student and family support are our top priority.
Before last year's Lunar New Year celebrations, we interviewed Cambridge Network's Senior Family Education Advisor (FEA) Yulanda to learn about the international students she supports and feedback from the families she serves.
Yulanda highlighted one student, in particular, Tony Liu, who enrolled as 9th grader at Bishop Miege High School in the Spring of 2017 and was now a senior at the school. Tony had always had good grades in school, actively participated in various extracurricular activities, and joined the school's National Honor Society his junior year. He also recently received an offer from his first university.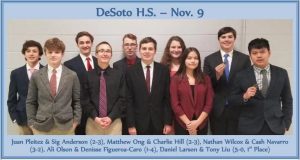 Throughout his time at Bishop Miege, most of Tony's grades were As. But these high marks were inseparable from his own efforts and hard work. When Tony first arrived at school, he would take the initiative to spend several hours studying every night and would actively communicate with his host mother for advice on materials that he didn't understand. Since he arrived in the United States, he has always had a clear goal: getting into a top university. So, he paid great attention to completing all his homework, examinations, discussions, and attendance to the best of his ability.
In his junior year, he took the SAT for the first time and got 1270. But he was not satisfied with this result. After his own continuously studying for the test again, his hard work finally paid off. Last December, he finally got his ideal target score of 1400. Tony's mother was pleased to share the news with Yulanda. But that wasn't the only good news. Tony had also scored a 104 on the TOEFL and received his admission letter to the University of Pennsylvania.
In the eyes of Yulanda, Tony was not only a hardworking student but also open-minded and receptive. He spoke up and is never shy to talk with others. Even in his first year of arriving in the U.S., when Tony encounters something he did not understand, he would directly ask questions, communicate frankly, and ask the teacher for help. He was also very willing to try new things, whether it was new foods or activities. Because of this spirit, he adapted to American life very quickly. This kind of courage to try new things and willingness to communicate also made Tony many new friends. These are all critical attributes for the success of young international students in American high schools.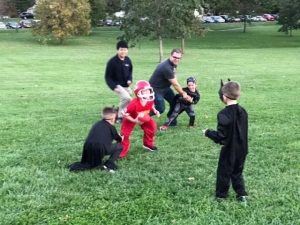 Tony is empathetic, independent, and self-reliant, and gets along with the host family very pleasantly. He will actively participate in the home activities, and he will often exchange Chinese culture with his hosts. He was always learning things about American culture and become more and more confident as a result. During the Chinese New Year celebrations held by his Cambridge Network Student Development Manager (SDM) and his hosts, Tony personally wrote the word "Fu", the Chinese character for good fortune, and posted it on his host's home door. At the event, Tony took it upon himself to make sure his host family felt included. He explained to his host family the meaning of dumplings, red envelopes, and other symbols of good luck so that his hosts could better understand Chinese culture.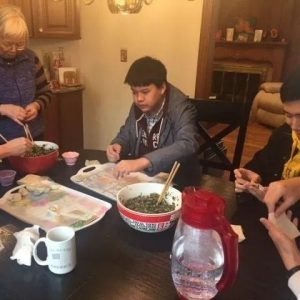 Cambridge Network understands that parents who let their students travel thousands of miles away to study abroad are worried about students' academics and their day-to-day lives. Our FEAs, such as Yulanda, make sure to share these little details with Tony's parents back in China.
Tony's story is just one of many stories from our FEA team. These experiences happen every day. It essential that students and parents celebrate not only the grandest accomplishments but everyday successes as well. The primary responsibility of every member of the Cambridge FEA team is to communicate with students and their parents to make sure they feel positive and supported about their study abroad experience.
—
Click here to see last month's Student Spotlight!
For students interested in Cambridge Network, please click the "Contact Us" button or follow this link.
For schools interested in Cambridge Network and our services, please submit an inquiry form