It is undeniable that the US is a major exporter of culture; its music and art influence young aspiring artists worldwide. Accessible, robust, and high-quality music programs have become a bigger draw for international students seeking to study abroad in the United States. International students feel strongly that these enrichment programs, which are often integrated into schools, provide the best of both worlds. At American high schools, international students can balance their rigorous studies and pursue their broader interests in clubs and teams in their extracurricular activities, something that's not always available to them in their home countries. This was reason Richard (Kuidong) Li, a rising Cambridge Network senior, chose to study at St. Mary's Ryken (SMR) High School in Leonardtown, Maryland:
"Before coming to the United States, everyone would say that American schools encourage students to participate in various activities to enrich their social experience and competitiveness when applying for college. After arriving, I found out that this was indeed the case."
Richard was already an accomplished musician in China. He passed the Chinese Musician Association Music Examination for Violin Amateur for grade 9. Richard was admitted to the Guiyang Middle School Symphony Orchestra in junior high school, where he often played with the group.  When Richard initially searched for the right American high school for him, he knew he wanted a school that offered AP Music Theory. But when he arrived at SMR, he was pleasantly surprised by its many course options:
"There were so many art and music courses to choose from. For example, our school has chorus, dancing, speech, musical instruments, painting, art engineering, etc. After I took AP music theory in the eleventh grade, I fell in love with this course. I learned a lot of music knowledge from it, including modes, chords, creation, sight-singing, and ear training. And the style of the teacher who teaches this course is also very good, he made me really take music seriously as a part of life."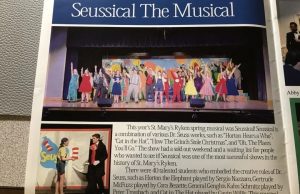 After Richard arrived at SMR, he immediately became an involved member of the school's orchestra and jazz orchestra. He also joined the Washington, DC Youth Symphony Orchestra in the eleventh grade, and passed the Solo and Ensemble level 5 (the highest level is 6). But what he felt the most deeply about was the school musical:
"It was amazing to see an event where students were mainly responsible, from planning to production to performance. Students who can sing and perform played different roles on stage. Students who knew how to play instruments played music in the orchestra, and some students will control the lighting and tuning in the control room. From the beginning of the musical theatre preparations and posters, students who know how to draw were also responsible for the costumes of the characters. The setting of the stage is also made by the students with the help of some adults. Tickets will be sold to the community during the performance, and the income will be used for the construction of the school and the art department."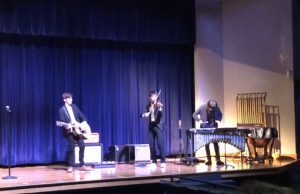 Richard also got the other opportunities to showcase his talent, he formed a trio band with two classmates and performed in the school talent show where they won second place. And the first-place winner was his band member's solo guitar performance, which should really count as a double win. Richard was also thankful that he got the chance to perform with the Washington, DC Youth Symphony Orchestra:
"The level of each member of the group is very high; they all live near DC and have a sparring teacher. The difficulty of the music is, of course, very high. During the COVID-19 pandemic, the orchestra often organizes online rehearsals, and is even considering preparing a symphony composed by students."
This orchestra practices in the north of DC, which is about an hour and a half drive from his host family's home. At times when his hosts couldn't drive him, Richard contacted his school and Cambridge Network. In the end, a teacher or his Cambridge Network Student Development Manager would help take Richard to orchestra.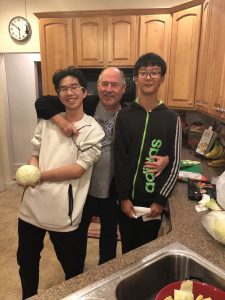 Last year, in eleventh grade, Richard took four AP classes and joined the school's tennis team and a band while preparing to take his TOEFL exam. This was by his busiest year, and at the end of the semester, he received a TOEFL score of 106 and A's in all his AP courses. Richard knew this was a big year for him:
"College applications are in the first half of the twelfth grade; what the university can mainly see is the student's contributions in the eleventh grade. Although this year is relatively difficult for me, I still don't regret this choice; if I did not come to US, I might be forced to give up many hobbies and only focus on academic performance. But here it is very commendable that I can find a balance between my interests and studying."
—
Click here to see last month's Student Spotlight!
For students interested in Cambridge Network, please click the "Contact Us" button or follow this link.
For schools interested in Cambridge Network and our services, please submit an inquiry form