In 2015, Jimmy Mao left his hometown of Fuzhou in the Fujian Province which sits along China's southeast coast and about 400 miles from Hong Kong. The city of Fuzhou and Fujian Province has long been connected to those seeking adventure, fortune, and knowledge. Its geography and distance from the capital, Beijing, has allowed the area to develop somewhat independently from the governing powers. Fuzhou was one of the first cities in China to be opened for foreign investment as a part of economic reforms in the 1970s. It now operates as a special economic zone with looser regulations than the rest of the country. Historically, the region often draws comparisons to the American Wild West, and the two have a unique connection in its pasts. In the Nineteenth Century, Chinese immigrants in the United States primarily came from the coastal districts of Southeast China like Fujian. Many of whom came to the US during the Gold Rush that began in 1849. More recently, over the last two decades, New York witnessed another influx of Fuzhounese immigrants where even parts of the Lower East Side are being acknowledged as "Little Fuzhou".
Jimmy arrived in Amherst, NY sharing the same excitement for adventure and thirst for knowledge as many of his fellow Fuzhounese. He entered his first year at The Park School of Buffalo eager to learn and take on new opportunities. Jimmy joined the cross-country team after just a few weeks of being on campus. He instantly fell in love with the sport, and he would go to participate all four years and eventually, become the team's captain. Last year, Jimmy competed at the 2018 Buffalo Half Marathon. Jimmy also joined the annual school musical productions of Once On This Island, Honk!, and The Lion King.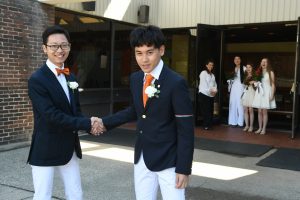 Jimmy's curiosity wasn't just self-serving; he also wanted to give back and make tangible changes in his new community. He wanted to learn how to lead, so Jimmy decided to run for student government. He was elected Class President during his sophomore year where became responsible for organizing class activities, balancing the class budget, and most importantly, he got the opportunity to represent his classmates. He would serve at that position for two years until he became the Student Body President, the top student representative for the entire school.
As President, Jimmy collected surveys from students and faculty, coordinated student-led organizations to lobby the administration for change, and pushed for dress code reform aimed at reducing gender discrimination.
But Jimmy's international student experience wasn't without its challenges as well. Being separated from one's family and home can often be a challenging experience for many international students. While this may not feel easy right away, but with the right support, it can prove to be quite rewarding. Jimmy shares some of the difficulties and comforts he encountered:
"I missed home. I felt very lonely at some point. But in a welcoming environment like Park, I found support from both the students and faculty and built many friendships that helped me go through the hard times. I learned to make myself more adaptive and stay open-minded, which helped me navigate through difficult things during high school life. To me, The Park School has become my home. Everyone there is very supportive and kind, and I've found friends and family whom I would keep in touch for life. Park's international program lead by the Johnson family really helped me and all the other international students join the Park family. "
Jimmy will be attending UC Berkeley in the fall, where he hopes to build off the experiences of leadership he has gained and continue to explore his passion for science. While he isn't exactly sure of what he wants to study, he is excited about the adventure, "I am still undetermined, but so far I know I'm interested in medicine and diplomacy." One piece of advice Jimmy would offer to his other international students is:
"It is going to be a long journey. You may feel lonely in some situations, and you may miss home more than you expected. But you must put yourself out there and stay open-minded. If you've made up your mind and you know for sure why you choose to go abroad, make sure you remember your reasons and your goal, so you don't get lost."
Click here to see last month's Student Spotlight!
For schools interested in Cambridge Network and our services, please to submit an inquiry form.